6 Online Platforms Where Architects and Designers Are Getting Inspiration 
It is here to stay: the material libraries, showrooms, trade shows, and product presentations that have all gone virtual now plan to stay that way in the future to some degree.  I mean who wants to wrestle into a jumpsuit or dress pants just to sit through a meeting when we had a year of yoga pants under our not needed belts?
We have had a solid year plus to click, star, and bookmark our favorite sites. For architects and designers, who are very tactile people, inspiration online was not the easiest transition, but we've broken down the top 6 platforms many have turned to, to fill that tangible void.
Instagram – The "It" Platform
"Insta" lives up to its name, with gratification realized in a scrolling succession of images passing until one catches your eye.  It is easy to like and save an image for later and you can follow companies, people, products, and hashtags that will update your feed with curated content that best suits your style and inspires your next creation.  Tag to your heart's content (pun intended).    #biophilicdesign #healthybuilding  #homeoffice #yogapants   Check out CaraGreen on Instagram here!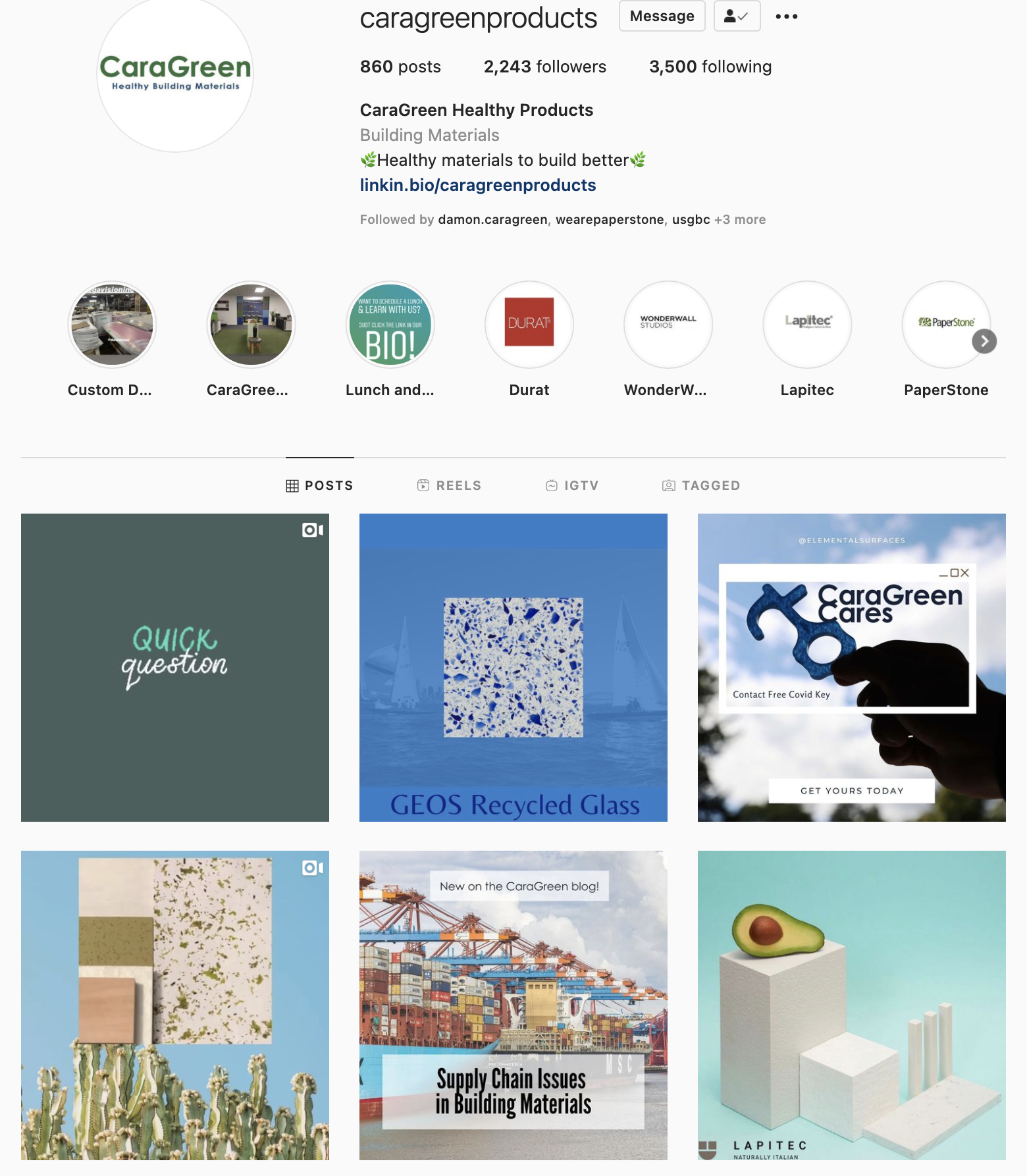 Pinterest – The Bulletin Board
Pinning is winning.  For the past decade, Pinterest has acted as a go-to platform for creating virtual mood boards. And man, did 2020 bring some moods with it.  Pinterest let's designers curate content based on different trends, materials, and aesthetics that align with projects, presentations or preferences.  The concept of boards is very designer-centric to begin with, and the online purgatory only made these collaborative spaces more inviting.  And, well, we had some time on our hands.  2020 – put a pin in that! Check out CaraGreen on Pinterest here!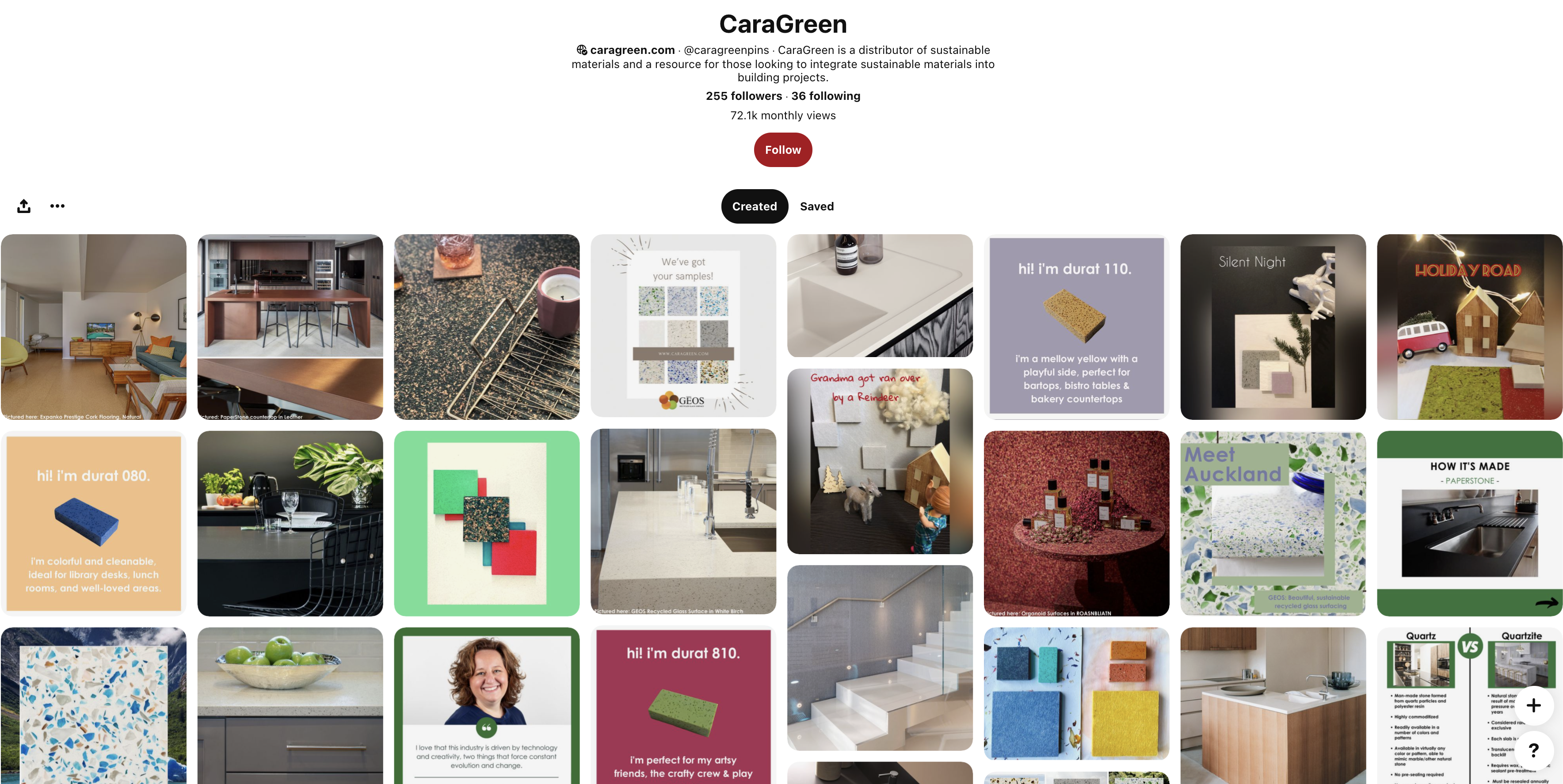 Mortarr – The Installation Gallery 
Inspiration by installation.  Swatches not doing it for you?  Designers are visualizers, but that stack of square samples doesn't always cut it when it comes to imagining the final product.  Seeing materials installed in the space can help give the full picture.  So trade your sample bricks for some Mortarr, which allows you to build a portfolio of products from commercial installation photos and communicate directly with the manufacturers and reps.  View CaraGreen Projects and Gallery on Mortarr here!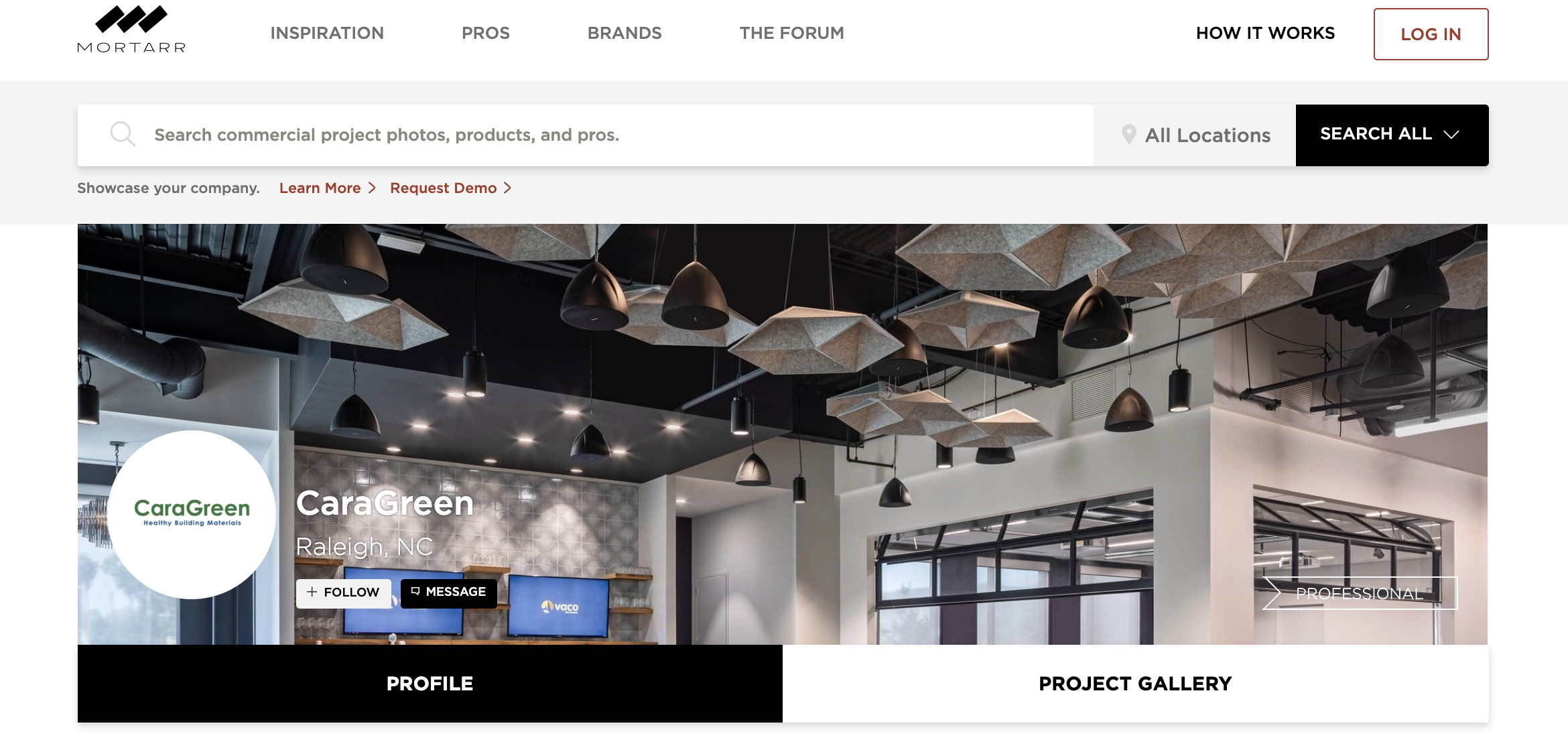 Snapshots – Vision board meets photo album
Not in the mood to guess where they took that install shot?  Understood.  Websites like officesnapshots.com, retailsnapshots.com, educationsnapshots.com, and hospitalitysnapshots.com make it super easy to deliver inspiration tailored by location.  Who wants to try to figure out if that photo is a hotel lobby or a bougie residence?  These websites lump installation photos by application, so designers don't need to jump from site-to-site trying to find what is right for them.  Goldilocks would be in heaven.  See Kirei Recycled Acoustic Solutions & more CaraGreen products featured on Snapshot! 

To The Source – Need samples? You can go to the source. 
To the Source (tothesource.com) serves as a virtual online library of product reps and their products.  They offer educational Snack Breaks, which are recorded videos discussing trends and products in the industry — keeping you updated on all the brands out there in a virtual setting.  They currently have over 1900 brands and continue to grow.  They offer same day sample delivery for stocked items.   Check out CaraGreen's previous Snack Breaks here: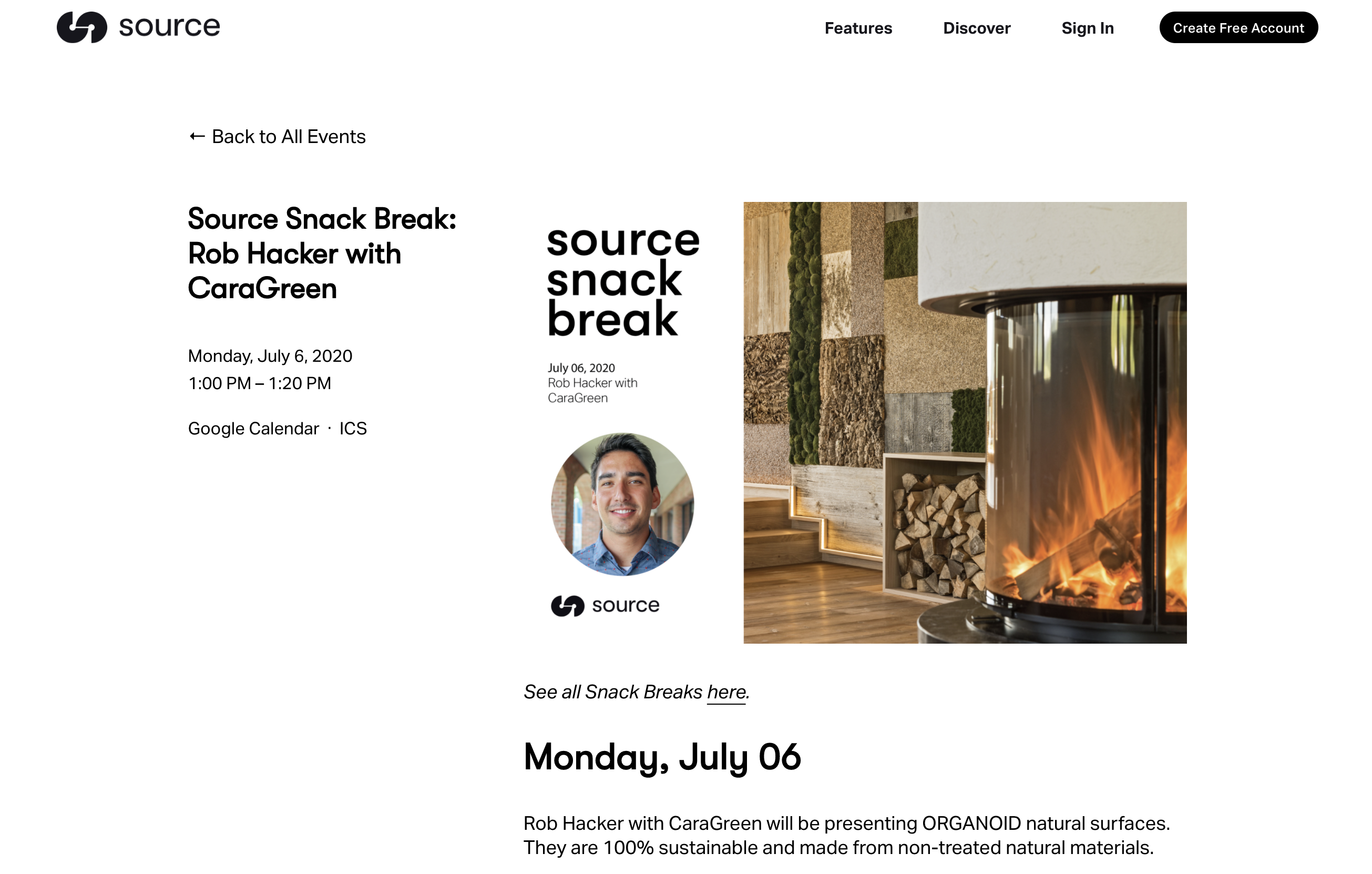 Material Bank – The Virtual Library
Material Bank has become the most well known online virtual material library in the building industry. It ramped up at the most opportune time with its unrivaled customer service and overnight, contactless sample delivery.  Recently expanding into its new space, Material Bank was just what the industry ordered when everyone went remote.  See PaperStone Recycled Composite & more CaraGreen products featured on Material Bank!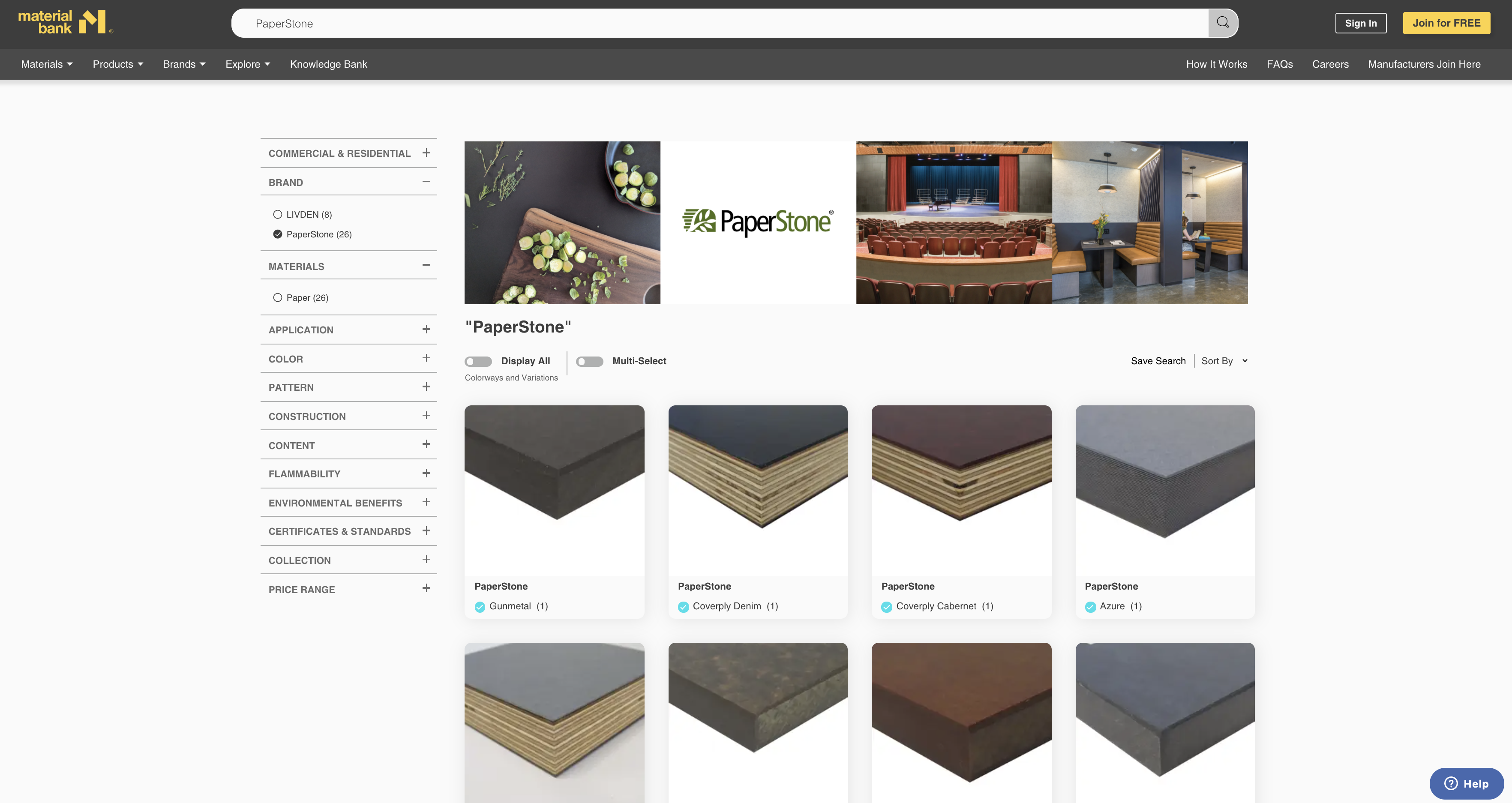 Quick to combat climate activists concerned about shipping great quantities of samples across the country in record time, Material Bank recently made all of their sample shipments 100% carbon neutral.Material Bank has also created a category of their sampling service exclusively for materials vetted by Mindful MATERIALS. Sustainability-minded firms like Perkins + Will and HKS that solely use Mindful MATERIALS will find browsing materials that much easier.
They are not resting on their sample laurels, however. Through their platform they created Knowledge Bank; think of it as a Wikipedia for everything building material related. They also created Material Desk, a place to create " digital moodboards and palettes" using products offered by the site.
Where will inspiration come from in the future? Tik Tok? LinkedIn? YouTube?
You can follow CaraGreen on all of our platforms for your daily dose of inspiration!