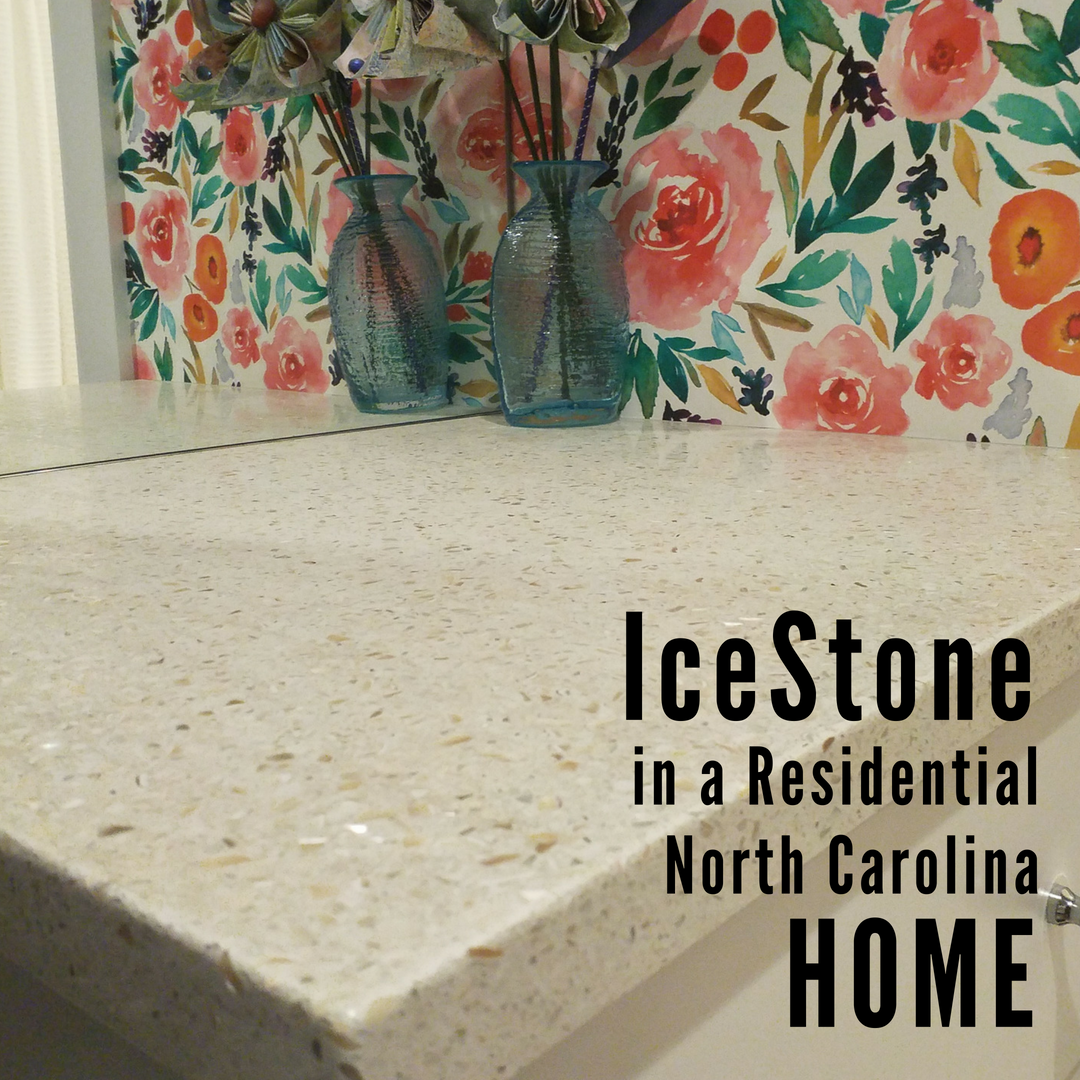 When Kim Fraser, wife of the co-founder of Spoonflower, began designing her custom home in Chapel Hill, North Carolina, she knew she wanted beautiful, sustainable finishes that would complement the eco-friendly wallpaper that her family is so well-known for developing.
IceStone, recycled glass and concrete countertops were a natural, beautiful, made-in-the-USA choice that fit that criteria. Fraser ended up using IceStone in all three of her daughter's bathrooms and closet spaces. The daughters even had a voice in choosing which IceStone color was their favorite to put into their rooms.
IceStone in Denim Moss
"Our wonderful architect, Dail Dixon, pointed us towards CaraGreen as a local company with whom we could work to source beautiful, sustainable materials. In our daughters' bathrooms and closets, we wanted a fun, informal look for them using materials that were still hard-wearing, stain-resistant and beautiful. The IceStone options jumped out at us visually and checked all the boxes for our more practical concerns." said Fraser.
CaraGreen, based in Raleigh, NC, is known for curating the best sustainable materials and making them available in the Southeast. They promote some of the more sustainable, lesser-known brands that have superior characteristics and are hidden gems to the designers who find and specify them. Most of the materials, like IceStone, have high recycled content, whether it be recycled plastic, paper, or in the case of IceStone, glass.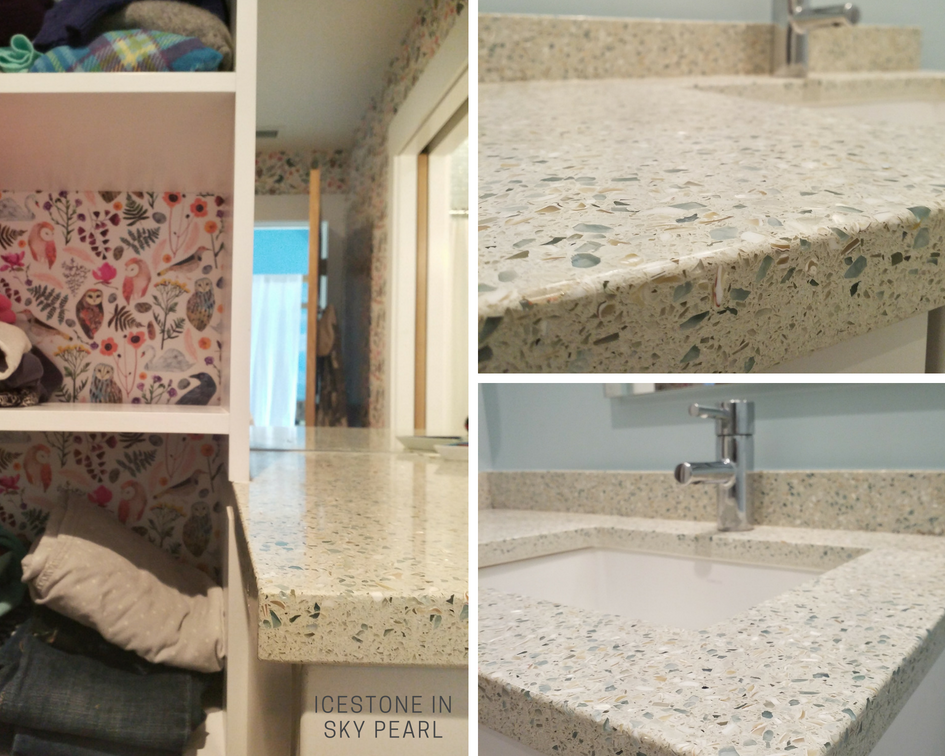 IceStone in Sky Pearl
Fraser went on to say, "Sustainability was definitely important to us throughout this project. We put systems into place to reduce our energy consumption, to make choices about finishes that might lessen our environmental impact, and to work with local craftspeople whenever we could. We use a geothermal system to heat and cool, and our energy usage is significantly offset by solar panels."
Besides minimizing her environmental impact with excellent energy and material choices, Fraser went further, by also supporting and using local suppliers and contractors for other building materials and construction. "We worked with Raleigh Reclaimed to provide reclaimed barn wood cladding and to build some sliding doors. We were even able to source beautiful furniture from NC furniture makers Elijah Wood (Durham) and Charleston Forge (Boone) with the help of Chapel Hill-based Palette & Parlor."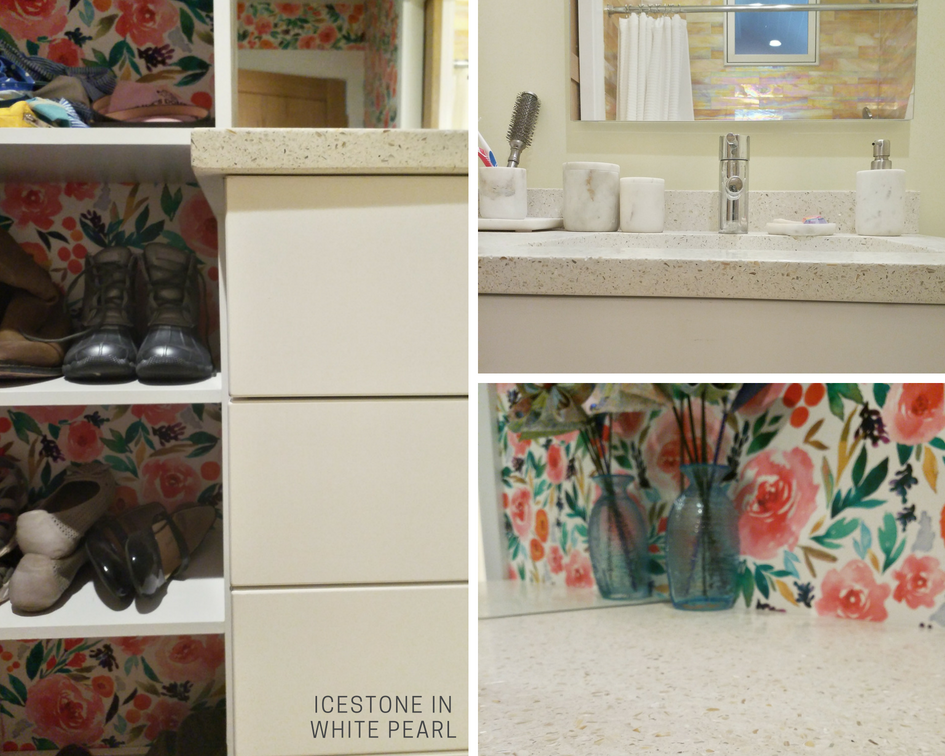 IceStone in White Pearl
All of these environmentally savvy choices have resulted in her dream home, with IceStone as a centerpiece and a telling element of just how much sustainability matters.
Request IceStone samples here.