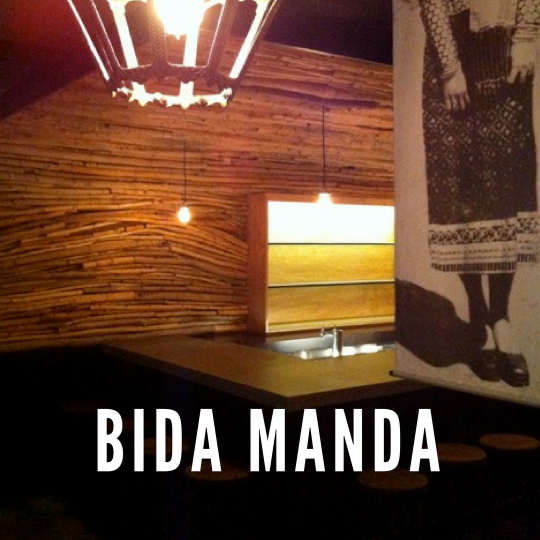 Bida Manda, which means father and mother in Sanskrit, is a new Laotian restaurant in Raleigh, NC. Owners, brother and sister Vansana and Vanvisa Nolintha, named the restaurant to honor their parents in Laos who instilled in them the belief of nurturing relationships through food. Interestingly, through the process of building their restaurant they also nurtured relationships with friends and the local community who came together to help create twig walls made from branches provided by CaraGreen and Bark House.

Matthew Griffith of in situ studio, architects for Bida Manda, shared the design story with us. He said that their client was amazing and came to them with a mood book full of images. They also had art and personal items from their parents and Laos, which they wanted to integrate into the space. A theme in their mood book was repetitive natural materials. The team was immediately drawn to pictures of Pio Pio restaurant designed by Sebastian Mariscal, which uses branches for the walls and ceiling. Kim Loftis, CaraGreen's triangle representative, stopped by in situ studio at just the right time as they were beginning the project and told them about Bark House who provides everything tree, from twigs to bark panels. CaraGreen and Bark House ended up supplying 3 tons of sticks to clad Bida Manda's walls and the ceiling over the bar including locust, oak, maple, sourwood, and birch species, which are all native to NC. Twigs were specified in 1"-3" diameters and as straight as possible.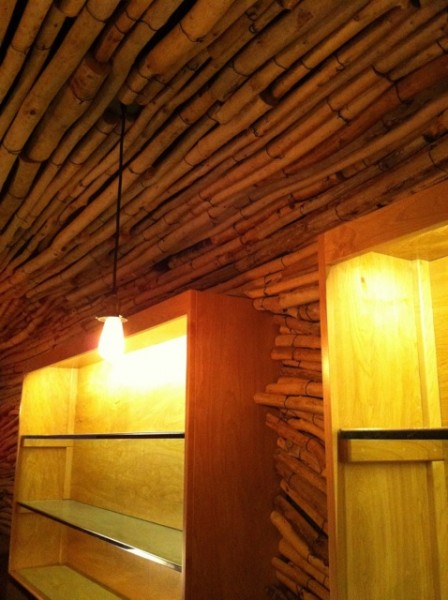 Griffith told CaraGreen that the sticks were the hardest element to figure out because the restaurant was not sprinklered and it's an assembly space, so materials had to be Class A fire rated. After many hours of research they found an intumescent varnish that would make the material fireproof and remain clear. After working with the city, and hiring an independent testing engineer to verify the process, they were able to move forward with their twig wall design plan. Budget dictated that the twigs would go in two places: a long wall that surrounds the main dining area and wraps the back wall, which is interrupted by a large display of the Nolinthas' art, and, on the back bar wall which folds and become the ceiling. Griffith said that when sitting at the bar "you feel like you're in a nest or womb of sticks".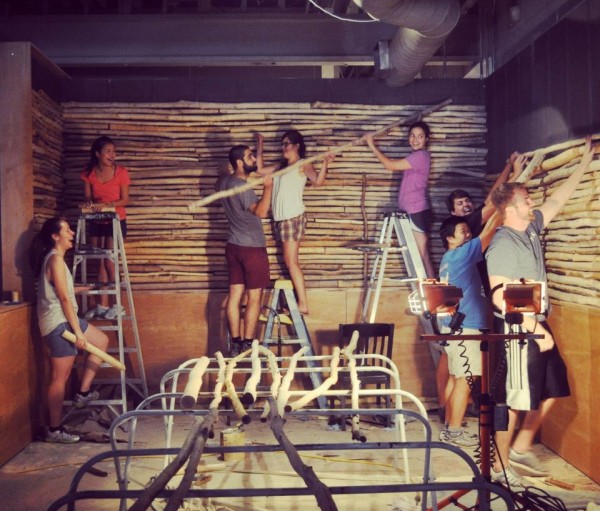 The twig walls required 750 hours to install. To reduce costs, Vansana and Vanvisa worked with friends to install the sticks. Over forty people helped and through the process, the Bida Manda family grew and it became a sort of community design project. To install the branches, they applied furring strips to the wall, which they then applied rabbit wire overtop. Everything was painted gray. Then, rather primitively, wire twists were used to attach the branches to the rabbit wire, which were then tucked out of sight. There was not a set plan of how to apply the branches and in the feel of the moment they decided to create some undulations around the bar giving it even more texture.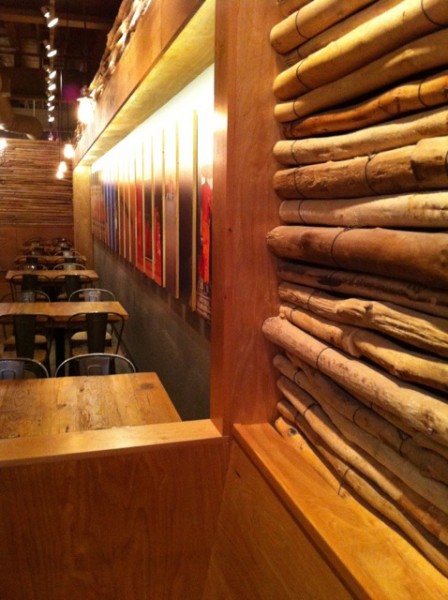 Sustainability was important on this project, which was a renovation of an existing space. Griffith said it was a "musical chairs of what was already there" and they reused as much as possible. Local artists and crafts people provided everything from art to reclaimed wood tables. Water based sealer was used for the concrete floors. LED strip lighting was used to illuminate the display cases containing art. Antiques were integrated into the space. And, the branches were sustainably and locally sourced from Bark House who is a certified B Corporation.
Bida Manda is located at 222 South Blount Street in Raleigh, NC.
The Bida Manda project team includes:
Client: Vansana and Vanvisa Nolintha
Architect: in situ studio
PME Engineer: Diversified Consulting Group
Contractor: Southeastern Properties and Development Company
Graphic Designer: Jaime Van Wart, Ketchup and Mustard
Prints: Spoon Flower
Textile Art: Shelly Smith
T-shirts + Decals: Ahpeele Studios