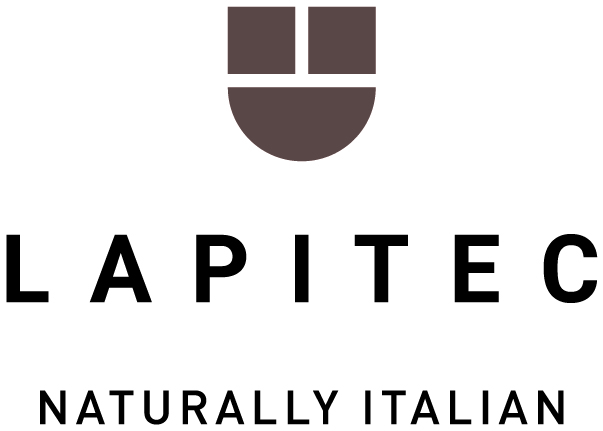 When Lapitec was first conceived of 20 years ago, there was not even a category of surfacing called sintered stone. Now, two decades later, the sintered stone category is coming on strong as the most durable, innovative surface on the market. Lapitec is prestigious. It is Italian. And it is a surface. So that became its tagline. But as time changed, so did the vision of Lapitec and the reality of what they had created with their Breton heritage: a 100% natural, resin-free, compact matrix surface that is unrivaled in absolute performance, aesthetic and inherent technology. From flooring to cladding and countertops, Lapitec is positioned to climb up and down the walls of architectural minds for decades to come.


So with that insight and foresight in mind, Lapitec has just rebranded.

It's logo redesigned to be precise and clean. Its tagline to reflect its genesis and its ingredient simplicity.

Human health and the health of the planet are now inherent requirements in building design. This requirement is pushed to the materials and the products that we use. Lapitec, from its inception, was meant to be the best conceivable surface on the market. It was also meant to be attainable and economical as a surfacing material. When it initially launched, perhaps the idea was so new, it needed to be cloaked in the concept of not being able to be had by all. But this is not the sintered stone category today. Today, sintered stone is the best choice to make for your project due to its low silica content, simple ingredient list, and the extensive technology imparted on Lapitec slabs that makes them impervious to staining, etching, and fading.

So with a new brand comes a reboot. A new way of looking at things. A new mission. A mission that is environmental stewardship and outlook for human health. A deep technical heritage rooted in Breton technology and hewn using European precision.
Lapitec. Naturally Italian.
To learn more about Lapitec, get a sample or request a product introduction by clicking the links below:
Request a sample: https://www.caragreen.com/contact/request-samples/
Request a product introduction: https://www.caragreen.com/education