Looking for ideas for a sustainable and successful space? We recently visited the new James B. Hunt Jr. Library at North Carolina State University to see Durat vanities that CaraGreen provided for the bathrooms. The building is the work of two architecture firms: Pearce, Brinkley, Cease + Lee (now part of Clark Nexsen) and Snøhetta. Upon arriving, we marveled at its modern architecture with a glass and metal exterior that stands out amid a campus of traditional brick buildings. More than the facade distinguishes this library though, which is designed to be sustainable (met requirements for LEED Silver), technologically advanced, and to foster collaboration.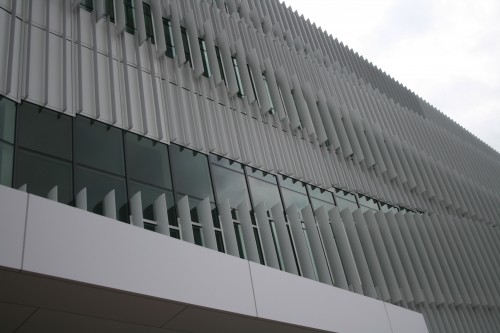 When you enter Hunt Library, there's not a book in sight. Yet, it houses nearly two million tomes that can be delivered to you within minutes via bookBot. You may not even realize this anomaly because of the architectural eye candy that abounds. A brilliant yellow monumental staircase cascades through the lobby amidst a field of white. Just around the stairs, there's a glass wall that overlooks a mass of steel boxes that span multiple floors. This is the heart of the library, the inner workings where those two million books reside. Roaming the library, the expert use of color, lighting, and sustainable practices impress.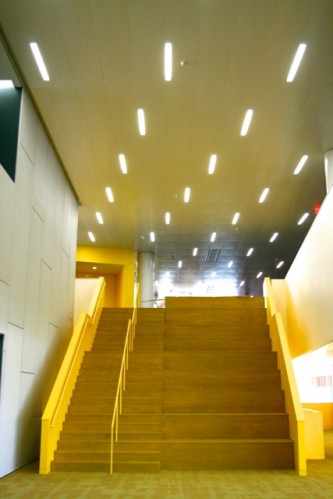 Color is used powerfully. Large blocks of yellow, teal, purple, green, and red interrupt expanses of whites and neutrals. Intensity is achieved through placement, repetition and continuity. For instance, all monumental staircases in the building are yellow and all elevator cores are teal. The yellow stairs have yellow treads, risers, handrails, and sidewalls. Elevator cores are teal and when the elevators open, they are clad in glass that has been back-painted in the same teal giving a seamless color experience. Project Architect, Shann Rushing, from Pearce, Brinkley, Cease + Lee, shared with us that when they saw Durat, they immediately fell in love with it for its colors and shape ability. They also liked that Durat was a visual way to show their sustainability goals with its exposed recycled plastic chips. With 28% post-industrial (pre-consumer) recycled plastic content, it is an excellent choice for a building following LEED guidelines. Durat has an HPD and is currently pursuing a Declare label to further its case for sustainability and material transparency. While its Finland manutacturing facility is entirely run on renewable energy, there is also a manufacturing facility here in the United States, which helps reduce the footprint of the material by having less distance to travel and by being American-made. Durat recycled countertops with integral oval sinks were ordered in both bright red and pale gray for all of the library's bathrooms. By using Durat throughout, the library is able to boast 31% total recycled content in its completion.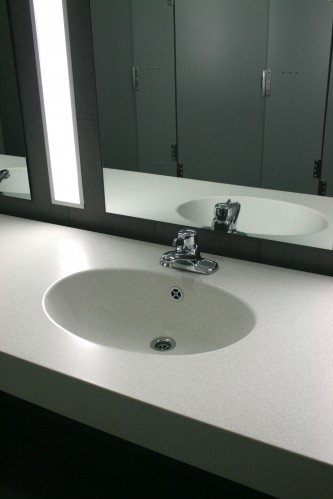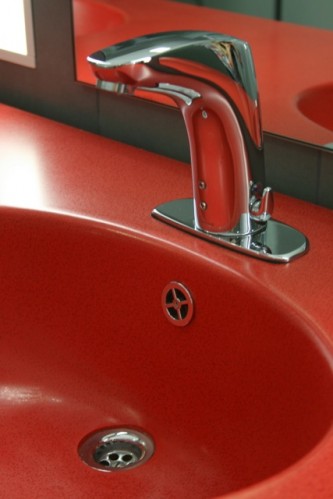 After color, the linear lighting used throughout the space, stands out as another brazen design element. It dashes along ceilings yielding energy and movement. And, in a more intimate reading room, long light rods hang from the ceiling, giving ambience. On the backside of the yellow stairwell in the lobby, LED lights zigzag up the shape of the stairs like racing stripes.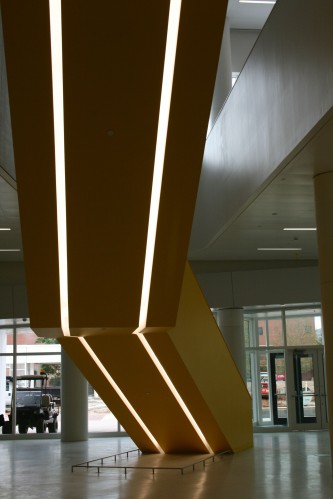 Sustainability is integral to the building's design. Fixed louvers clad the exterior and allow natural light in while mitigating glare and heat gain. Lights are on sensors, which detect both daylight and occupancy to help reduce energy. LED lights are used throughout. A Smart Mechanical System uses radiant heating and cooling versus forced air. All rainwater is collected and filtered through landscaped rain gardens to help minimize stormwater impact on the environment. The gardens are filled with indigenous plants. There's a green roof and trellises for vines to cover select areas of the exterior. And finish materials contain natural and recycled materials, such as the Durat, Marmoleum floors, and pavers made from concrete and recycled brick.