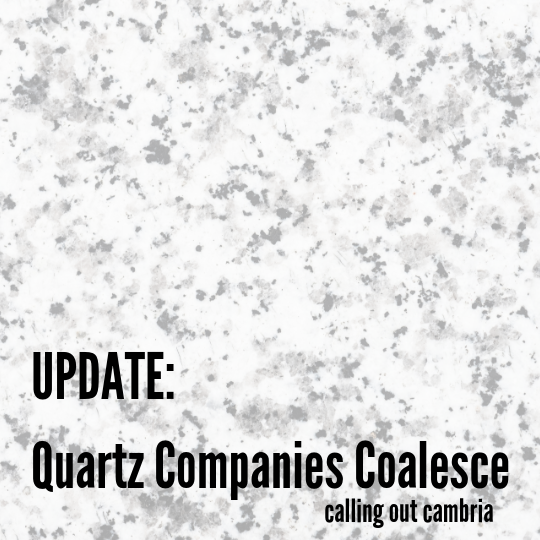 And just when I thought surfacing was pretty boring, this Quartz countertop thing is blowing up!
An industry that rests on its laurels and has largely been running to the bank in a boom construction market for the last 7+ years, has had to stop and smell the roses. And those are some thorny roses.
So what happened:
Quartz became king, replacing granite as the defacto standard, making man-made stone a viable solution.

China jumped on the bandwagon and hundreds of factories opened in China, spewing massive amounts of quartz into the market.

Many companies branded quartz surfaces from China under various names, some with a US-angled name, hoping you would never suspect that it was not a native product.

Even distributors and stone fabricators got into the mix, private labeling cheap quartz under various names.

Groups form to start enabling this "knock-off" scenario where reputable quartz brands are sent to China for knock-off samples to get material at a lower price.

Distributors, fabricators, and manufacturers are competing amongst each other for market share, at times with the same exact quartz from the same exact factory.
Pricing goes down.
Pricing keeps going down.
Cambria and other premium quartz brands can't compete. Cambria, well-connected Cambria, files an anti-dumping and countervailing lawsuit against China.
The ITC preliminary ruling is in Cambria's favor and tariffs in excess of 300% are slapped on most quartz surfacing imported from China.
AND TODAY….. A group of companies have banded together to combat the ruling. They have formed a coalition of over 200 fabricators who are appealing the decision.
Our take:
This all comes a little late as the ruling has already been made and it sounds like more of an anti-Cambria reaction by the fabricators than it does an argument against the ruling.
The facts are (according to the ITC's investigation) that China WAS subsidizing and WAS dumping the material in the US below cost. If that is true, what does this coalition hope to achieve? There are other brands of quartz out there that are NOT raising prices and are NOT from China, and (if this is the issue) are NOT Cambria. There are also emerging materials out there like sintered stones, porcelain, natural stones and recycled surfaces that are viable alternatives.
This strikes me as sour grapes toward Cambria, who is probably going to bear the brunt of the fabricators' sentiment toward the ruling anyway.
We will keep an eye on this as things change. These are just opinions, of course. We are just excited that there is something shifting in such an inert industry, and companies are being forced to change, so we wanted to weigh in on it.
Change is good. Revenge is short-lived.