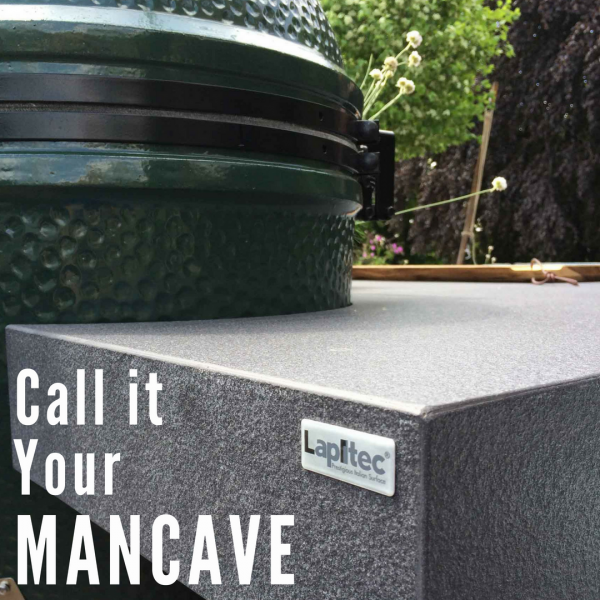 Call it your Man Cave. It works for women too.
A dark, cigar smoke-filled basement with dorm sized refrigerators filled with microbrews really does not appeal to women. A slightly stained poker table with some AC/DC rockin' in the background and a Snap-On Tools pin-up poster doesn't really evoke a lot of positive reinforcement either. These are the man caves of old.
The new man cave is the outdoor kitchen, and have at it fellas because this works for us ladies too! You want to spend 12 hours outside tipping back some frosty local IPAs and uber-sours with the neighbors all in the name of a delicious meal? Have at it!
No longer relegated to the basement, men are moving outside and into the light, and we should welcome them!
Mind you, this is not simply the Char-Broil or an alien looking tin full of charcoal and a woven lawn chair. We are talking legit, designer outdoor kitchens. Two grills, three grills, a fire pit, a smoker- why stop there? How about a countertop that is able to keep your beer cold? With the new materials on the market, designing an outdoor kitchen has never been easier. We are getting high tech in the high temps.
But pay attention. As these spaces are plotted and designed, the new materials used to design them are engineered to make things that seemed impossible suddenly achievable.
What am I talking about specifically? Materials so resistant to thermal shock that you can build in a refrigerating cooler and an induction top? Will they discolor in the sun? No. Crack under a hot pot? Nope. Keep my Pinot Grigio chilled? Check check check.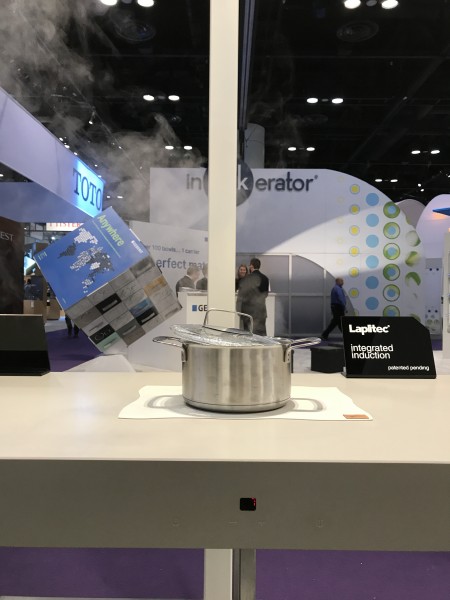 Lapitec induction top at the Kitchen & Bath Industry Show in 2017.
Designer outdoor kitchens that accommodate all the gadgets but look amazing.
The secret to this symbiotic man cave/wife-approved oasis? Well first it is fact that they are actually making dinner, and in the absence of a fire or too many IPAs, anything that cooks that long or under that watchful ego, better and should taste delicious. But secondly, it is sintered stone. Seems like a leap from ego to stone, but both can be difficult to deal with until they are properly understood.
Lapitec induction stove and chill top shown- Ghandara Kitchen.
Sintered stone is the latest material to enter the market that was specifically designed to address all of the limitations of typical building materials when it comes to this design space. Quartz is popular right now, but it yellows in the sun and commonly cracks or discolors under high heat. It also does not have the thermal resistance due to the polyester that binds it.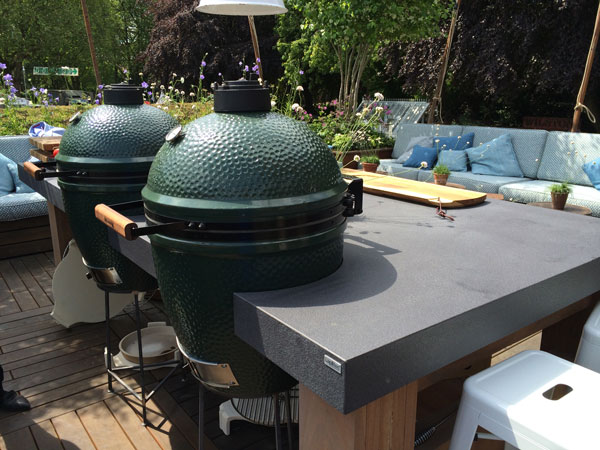 Lapitec Grigio Piombo in Vesuvio at the Chelsea Flower Show in London.
Sintered stones are mineral based, with no binders and are engineered to withstand scratching, cutting, staining, etching, heat and frost, is antimicrobial and is able to kill bacteria on the surface. Backyards are migrating toward brands like Lapitec, Dekton and Neolith, which are all sintered, or formed at high heat and engineered to withstand the elements.
So, have at it fellas, own your space! Just let us know when dinner is ready.
Looking for more resources on how to build your dream man cave? Check out this blog post: https://porch.com/advice/3-steps-create-ultimate-man-cave