Meet GEOS: the latest Modern Surface to join CaraGreen's collection of healthy surface materials.
To help you get to know GEOS, we've broken it down, letter by letter: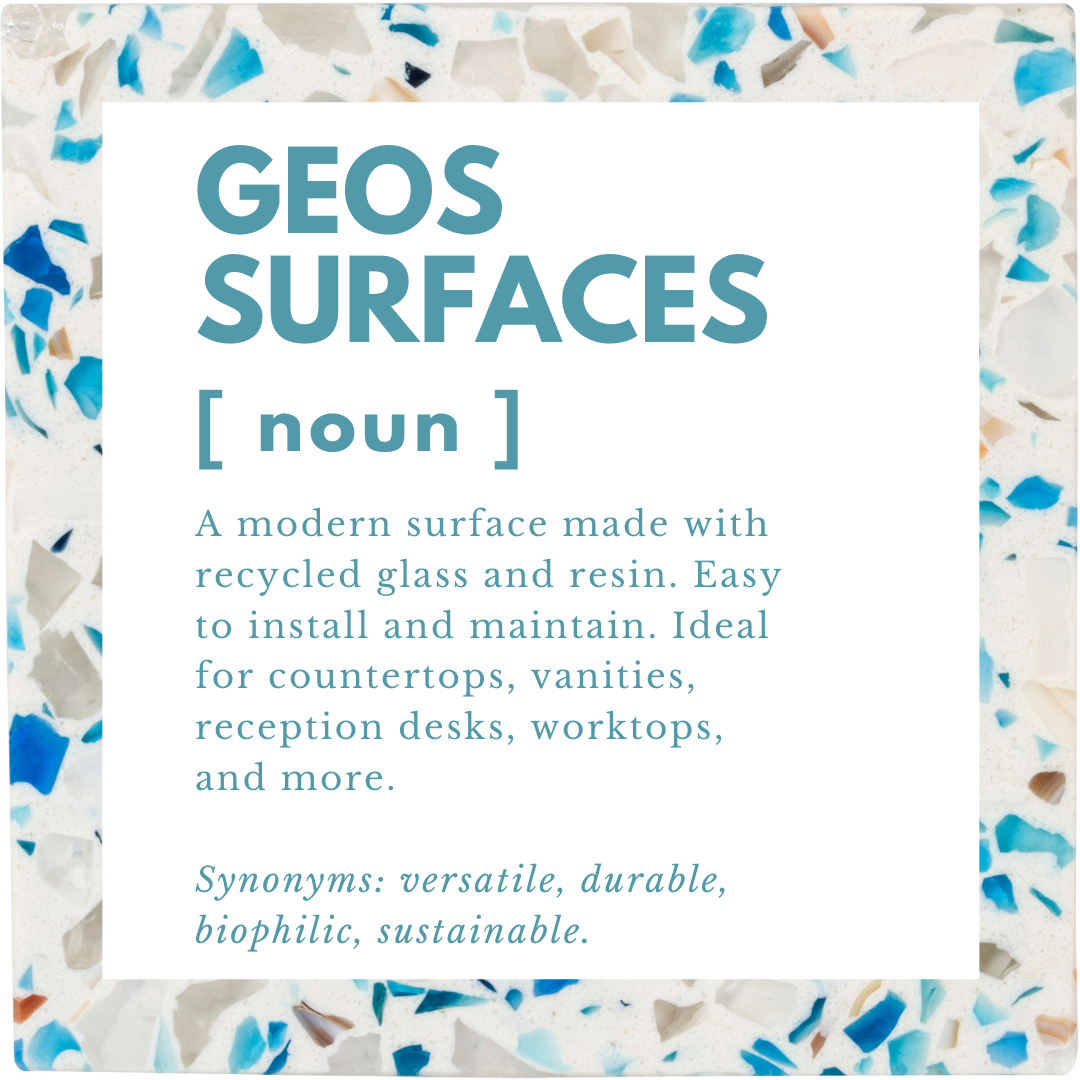 G – GLASS

When you see GEOS surfaces you are immediately drawn to the look, bright blues, greens and browns, all reflected in the glass aggregate that comprises the bulk of the material. The glass itself is eye-catching, but it is not only appealing to you, it is appealing to the planet. All of the glass in GEOS is recycled. The recycling crisis is playing out across the globe and GEOS is at the forefront of diverting tons of glass from the wastestream and into beautiful, sustainable countertops. The material is composed of 55-60% recycled glass, both pre- and post-consumer, and is combined with a resin binder to offer durability and performance
E – ENVIRONMENTAL

It is not just the glass in GEOS that gives a nod to the environment, all of the products are named after various geographical locations. Rincon, for example, was named for the famous surfing site in Southern California, and is clear and brown glass speckled with shimmering blue glass, which evokes the sea and surrounding of its namesake. Marina, with its dark blue glass cast against the stark white background evokes the similar contrast between the deep sea and the boats that set out upon it. Biophilic by design, and responsible to the places for which they are named, GEOS is designed with the environment in mind.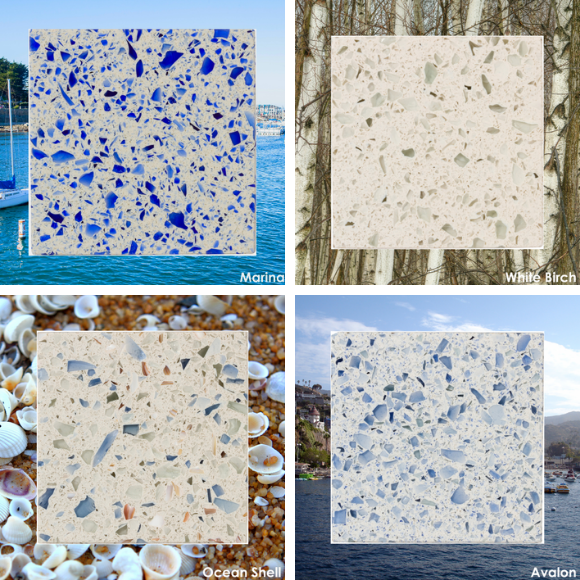 O – OPTIMIZED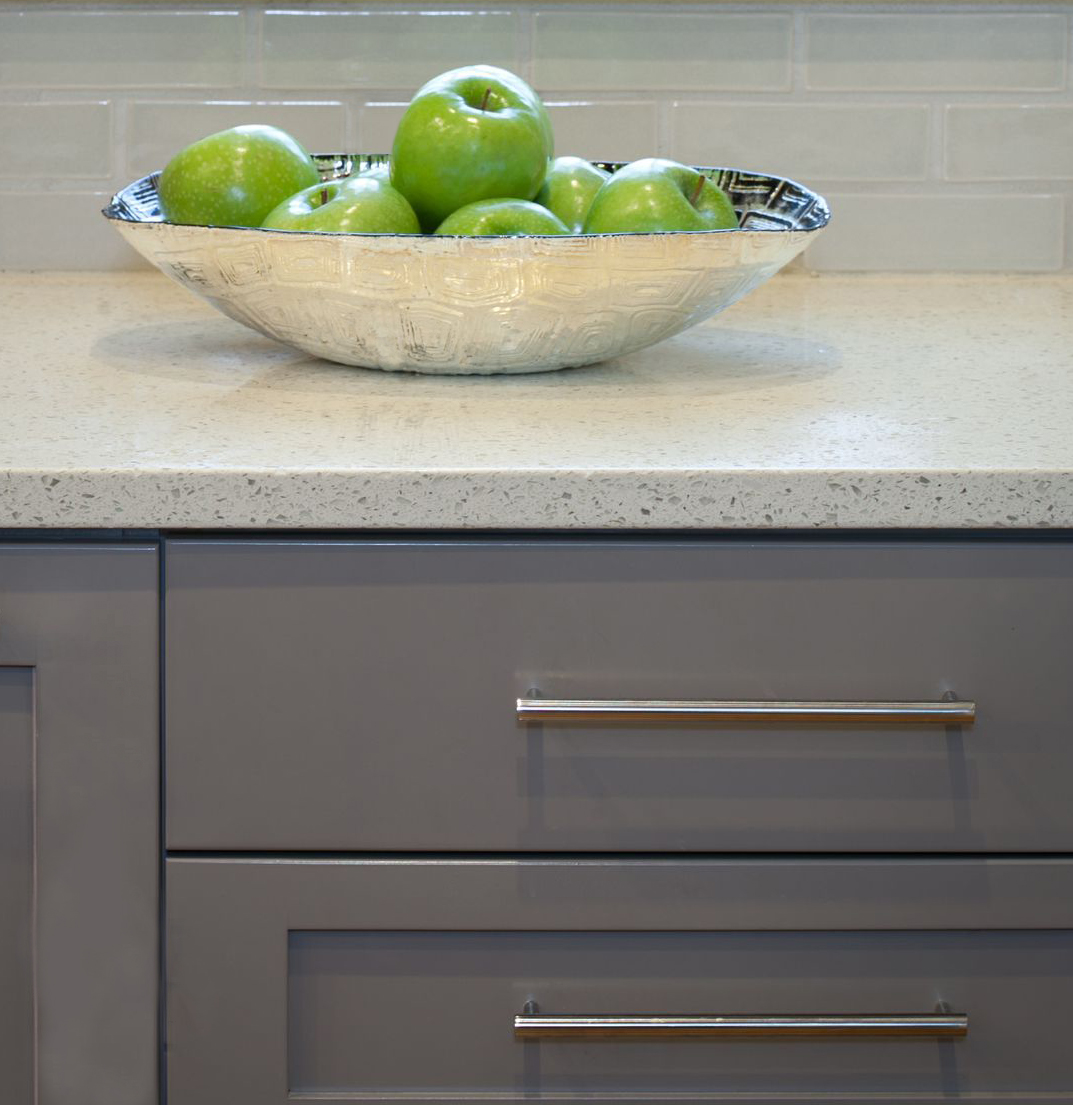 While glass has a great story, it is the resin that does the work. A polyester based resin binds the glass pieces and, like quartz, is not vulnerable to stains and etching like granite and natural stone. Since you don't need to seal it, maintenance is also a breeze. And cutting it can be done by any stone fabricator, so it is optimized to be an ideal blend of aesthetics and ease of use.
S – SURFACING

The surfacing space is shifting from granite to quartz. When manufacturers saw this, everybody and their brother started making quartz. GEOS is not another quartz product. Quartz is a commodity that has been plagued by silicosis concerns, tariffs, and a glut of supply in the market. GEOS, instead, is a novel glass-based product that stands out in an otherwise flooded market overcrowded with granite and quartz options. For a truly unique and original option, choose GEOS.
Want to learn more? Request GEOS samples today: https://www.caragreen.com/contact/request-samples/
Or set up a 10 minute virtual trunk show with your local rep: https://www.caragreen.com/contact/virtual-trunk-show/