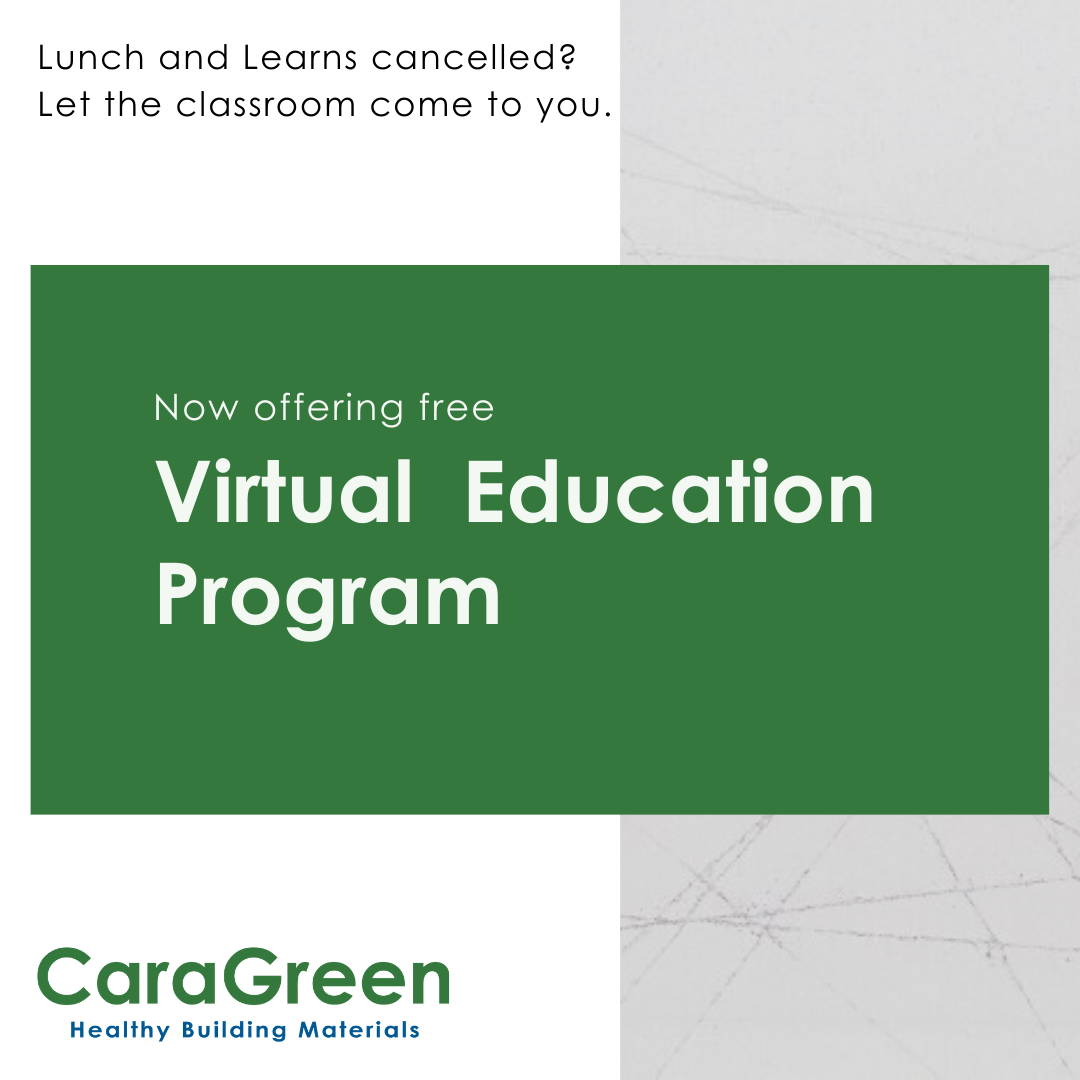 As the world, and our industry grapples with this difficult time, we are increasingly finding more and more events, conferences, and educational sessions canceled indefinitely. For architects and designers, this can mean missing an opportunity for an in-person product knowledge session or missing a chance for necessary and important CEU credits.
Here at CaraGreen, we want to do our part to keep the creativity flowing during these uncertain times. We are offering a free Virtual Education program for architects and designers. If you are in need of Continuing Education credits, schedule a remote education session with one of the members of the CaraGreen team. If you would like a product knowledge session for one of our brands, choose that option below.
All presentations are AIA-approved, with some also qualifying for GBCI and IDCEC hours. With LEED Accredited Professionals (AP) on staff, we strive to be at the forefront of education in the sustainable building industry.
While uncertainty continues to mount all around us, our Virtual Education Program is a form of assurance that CaraGreen is and will continue to be a source for architects and designers in the healthy building materials space.
To view our detailed of educational offerings, click here: www.caragreen.com/education
Our for-credit presentation options:
Staying on Top – Trends in Surfacing
Biomimicry in the Built Environment
Waste as a Resource, to Build is to Restore: the Paradigm Shift in the Built Environment
Biophilic Design
WELL Building Standard Basics
How to Become a WELL AP
Sustainable Rating Systems
Acoustics + Health
Sustainable Materials for Building Interiors (LEED v4)
Beyond the Surface
Turning Paper Into Stone
Sintered Stone
Specifying Exterior Wood Cladding: A Natural Choice Course
Our product knowledge presentations:
Durat – modern solid surface
Lapitec – sintered stone
elementAl – recycled acrylic and metal surface
PaperStone – recycled paper composite, surfacing and cladding
IceStone – recycled glass and cement surface
Kirei Acoustics- recycled plastic acoustic solutions
Kirei Natural Products – wood and natural surfacing materials
Koskisen – decorative high-grade plywood
Plyboo – bamboo materials for surfacing or sound control
reSawn Timber – charred and reclaimed cladding and flooring
Wonderwall Studios – decorative reclaimed wood panels
TorZo – bio-based panels
Bark House – natural bark shingles and panels
Insulation – UltraTouch (denim) and Havelock Wool
Cladding
Got a question? Start a conversation with CaraGreen.