The term "solid surface" often brings to mind a murky, plastic-looking top that evokes the '80s. Which makes sense, because when solid surface debuted in 1967 it was designed to look like the laminate countertops it was replacing. A few decades later, it evolved to mimic the granite and quartz that still dominate residential design. Solid surface's latest iteration has arrived at modern design and asks us all to join, brighter, bolder, and better than ever before.
Staying true to the 1980s vibe, yesteryear's solid surface was cloudier than the hairspray-filled air after a Bon Jovi concert. In the 1990s solid surface competed with granite and quartz as a natural stone alternative, battling it out with the Baltic Browns, Black Galaxies and Carrara Whites. Solid surface's appeal began to fade when quartz and granite became commodities, and its knock-off-rock look wasn't as good of a deal as it used to be.
But like all great '80s comeback stories, solid surface has us all taking a second look. Nostalgically nodding to the past, while oohing and ahhing over its current relevant benefits, impressive color evolution, and of course, showing us that recycled plastic is fantastic.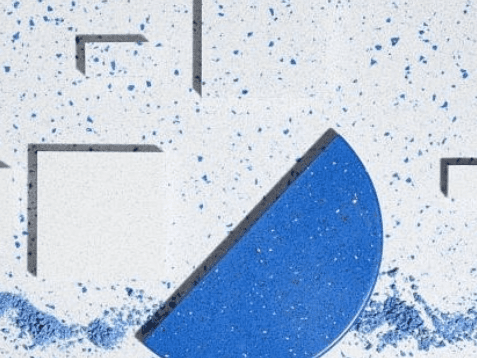 Today's solid surface keeps things simple. It soothes us with its seamless installations, low-maintenance upkeep, and modern color palette. Exactly what we need for the 2020's: clean, cool, and contemporary. Solid surface now offers a huge range of colors – stunning, saturated, and rich in clarity. Colors range from biophilic greens, to rich reds, spirited speckled whites and magnificent magentas. Solid surface is now a tool that can be used to evoke emotional, environmental, and psychological connections to color.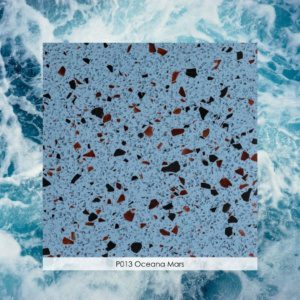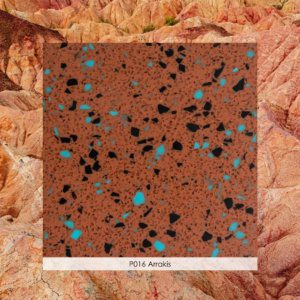 The reality of solid surface today is that its benefits are relevant, applications are useful, and new entrants in the space are bringing sexy back to solid surface with one simple trick: color.
Seamless, no grout lines, no sealing required and now – color!
Color is trending right now for many reasons, some emotional, some environmental, some psychological. Let's look at some of the factors driving the trends:
Biophilic Design – Biophilic Design is a concept used within the building industry to increase occupant connectivity to the natural environment. Techniques to implement biophilic design include direct nature (like plants), indirect nature (like paintings of animals), dynamic lighting, and spatial structure. Another way to bring nature into a space is color. Greens, blues, and yellows all evoke nature.
Experiential Spaces – Experiential Spaces are designed with an immersive theme to create a memorable experience. Experiential Spaces encourage engagement within the environment by provoking all five senses. Sight is a sense, and color is a major contributor.
Health and Wellbeing – Over the last 20 years we have made a cultural shift towards a better future of wellbeing & a healthy lifestyle. Personalized Healthcare, health trends, and technological innovations have propelled our ability and desire for a better tomorrow.  Health is happiness and bright colors make us happy!
If these trends inspire you to hit the trails with your new Poppy Pink hydro-huge-exercise-jug water bottle, or to purchase Outrageous Orange merch from the new Clementine Field Experiential Space down the block, more power to you. Color is what catches your eye. Be seen, be bright, use color. 
Durat Solid Surfaces offer seamless, no sealing, recycled countertop solid surface materials. In more than 70 standard colors, and an array of custom options.  Durat is a colorful knockout, no competition. Here's to you Durat, 'I see your true colors shining through, I see your true colors, and that's why I love you.'
View this blog and find Durat Solid Surfaces available on SwatchBox!