The International Woodworking Fair in Atlanta kicked off on August 26 with two halls filled with equipment vendors, wood product vendors, accessories vendors and wild-eyed attendees trying to weave their way through the aisles of vendors.
Unless you had a map and a hit list, you were going to struggle to try to distinguish one veneer supplier from another. It would be nearly impossible to remember which edge banding company had scanned you and which one had the product that was of interest to you. As with any tradeshow, proper notes and filing of business cards are critical to remember who you really want to follow up with – and who you want to follow up with you.
Our Modern Surfaces booth showcased PaperStone in its various forms: CharredStone wall cladding, a wood textured panel with unmatched durability, Azure PaperStone counters, a stunning blue, matte finished counter that is naturally textured and warm to the touch, and PaperStone Cladding, a matte outdoor panel that can withstand the elements and has a modern aesthetic. To showcase the durability, and outdoor use, the flooring was GatorSkins skate ramp material and small ramp flanked the back corner. CoveryPly lightweight shelves housed books expertly made of PaperStone by the always creative Gecko Solid Surface in San Antonio, Texas.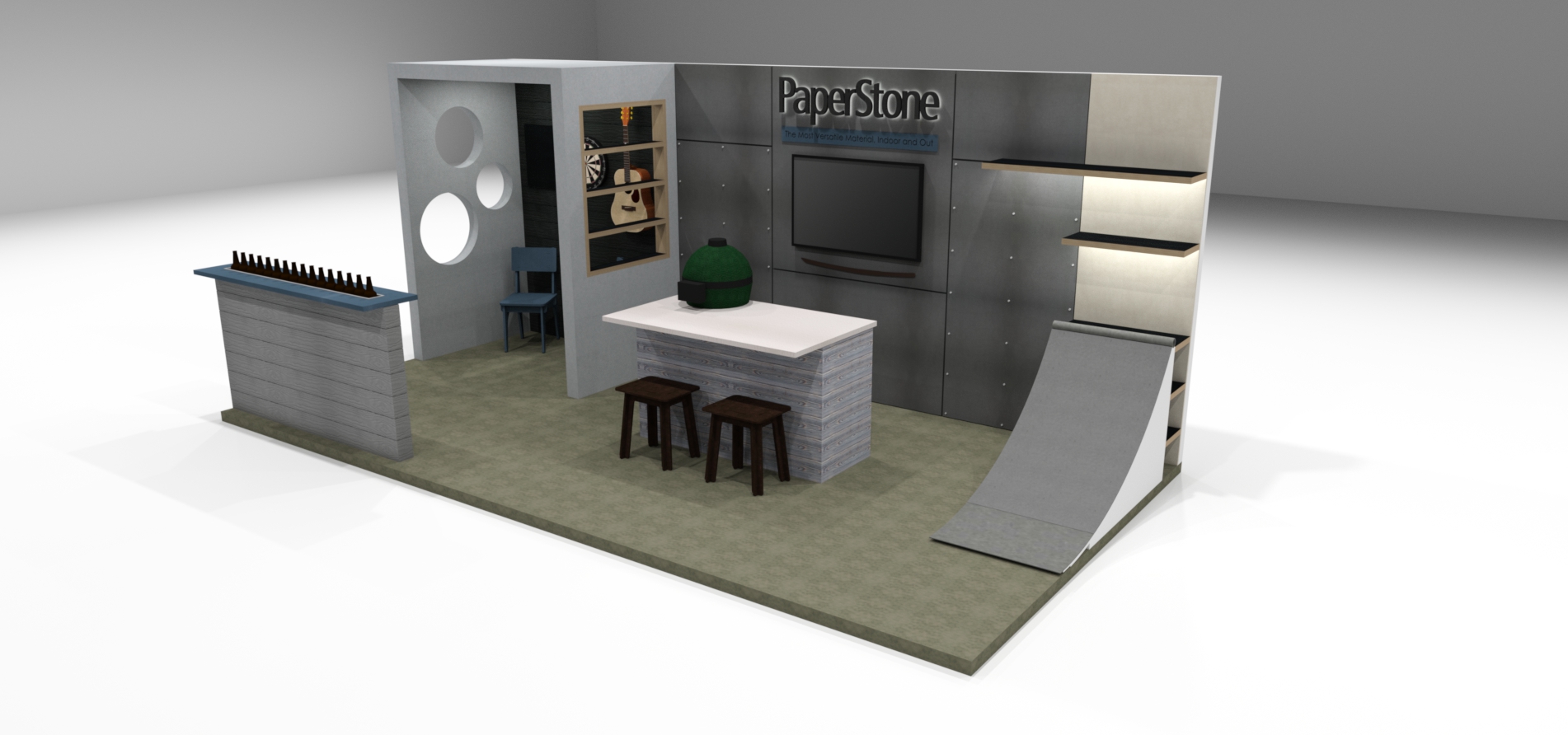 Knowing that the applications for PaperStone are unbounded and that woodworkers are always looking for something that they can work with that pushes the norms and offers a unique feature set that their peers do not have. Using carbide tools, you can work PaperStone like a dense hardwood, without the environmental regret. Made of primarily recycled paper, IWF attendees were surprised to know that PaperStone is manufactured right here in the USA.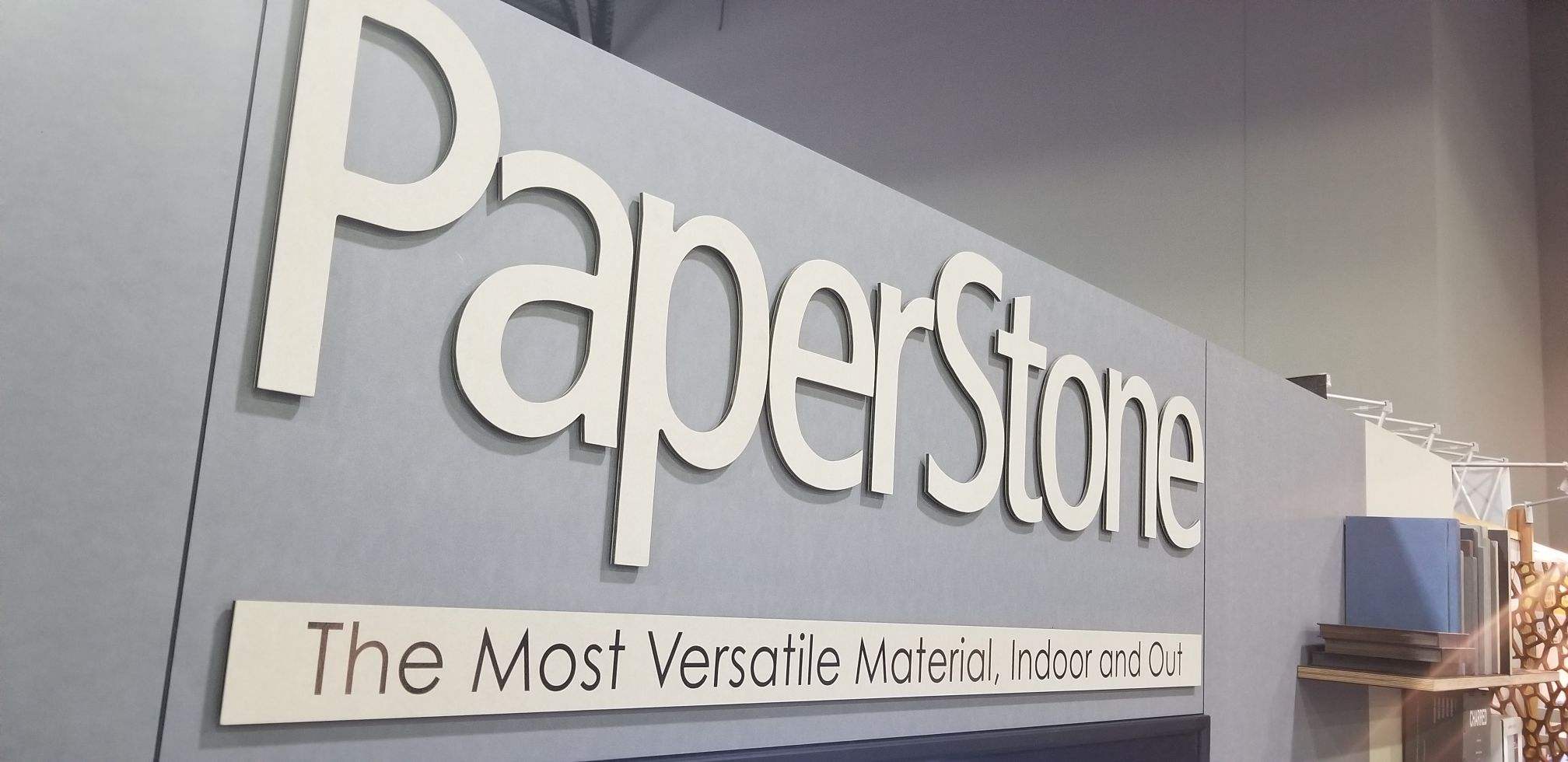 An oasis amid the myriad of Chinese wood-based products that are starting to dominate the show, IWF attendees loved the Made In The USA story. The booth also included the outdoor experience showcasing Lapitec, the sintered stone that is the next generation in surfacing. Lapitec hugged a Big Green Egg, which showcases the massive thermal range that the product can withstand. reSAWN Timber also made an appearance, and people loved the Shou Sugi Ban charred face of the wood, brushed back with a subtle color, to offer a unique aesthetic in the wood world.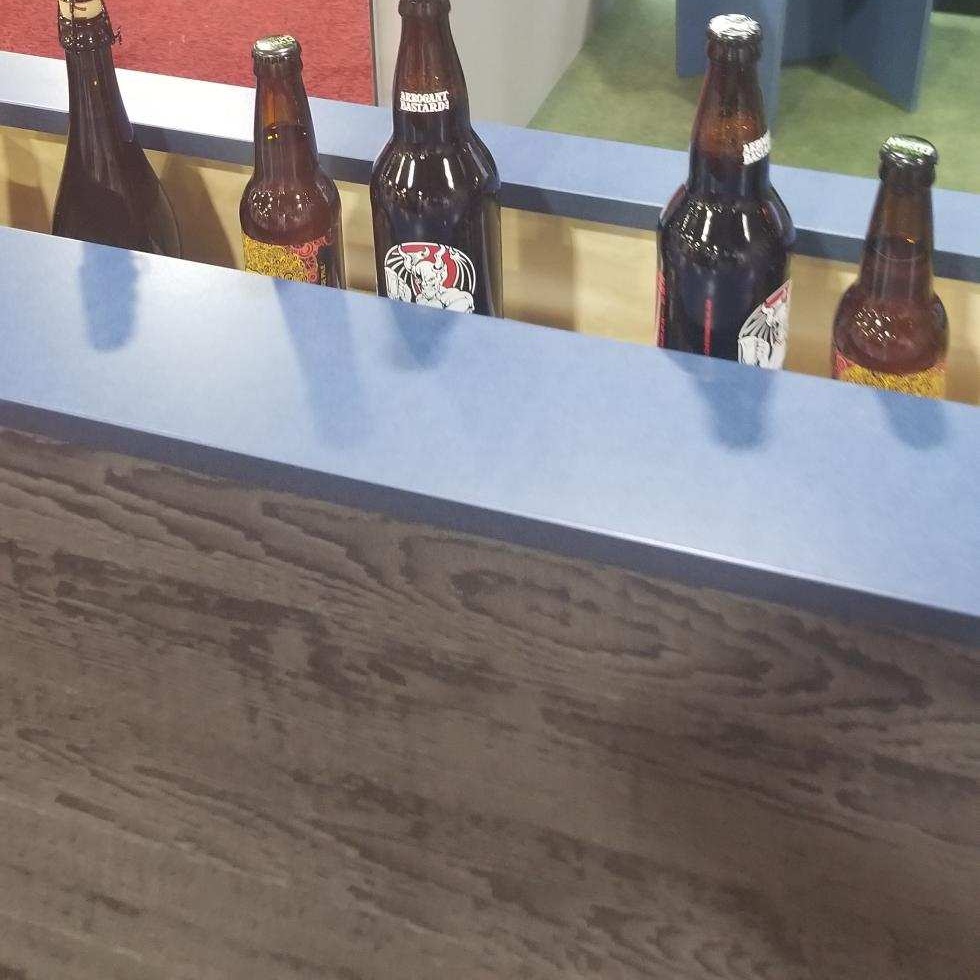 All in all, there was a lot to take in at the show, and with a mostly "more of the same" response, the attendees were excited to find our booth and we are excited to follow up with them on their projects and ideas. We look forward to continuing exploring the creative uses for Modern Surfaces products in the woodworking world.
We want to see your amazing PaperStone creations! Tag us on Instagram and use the hashtag #PaperStone.