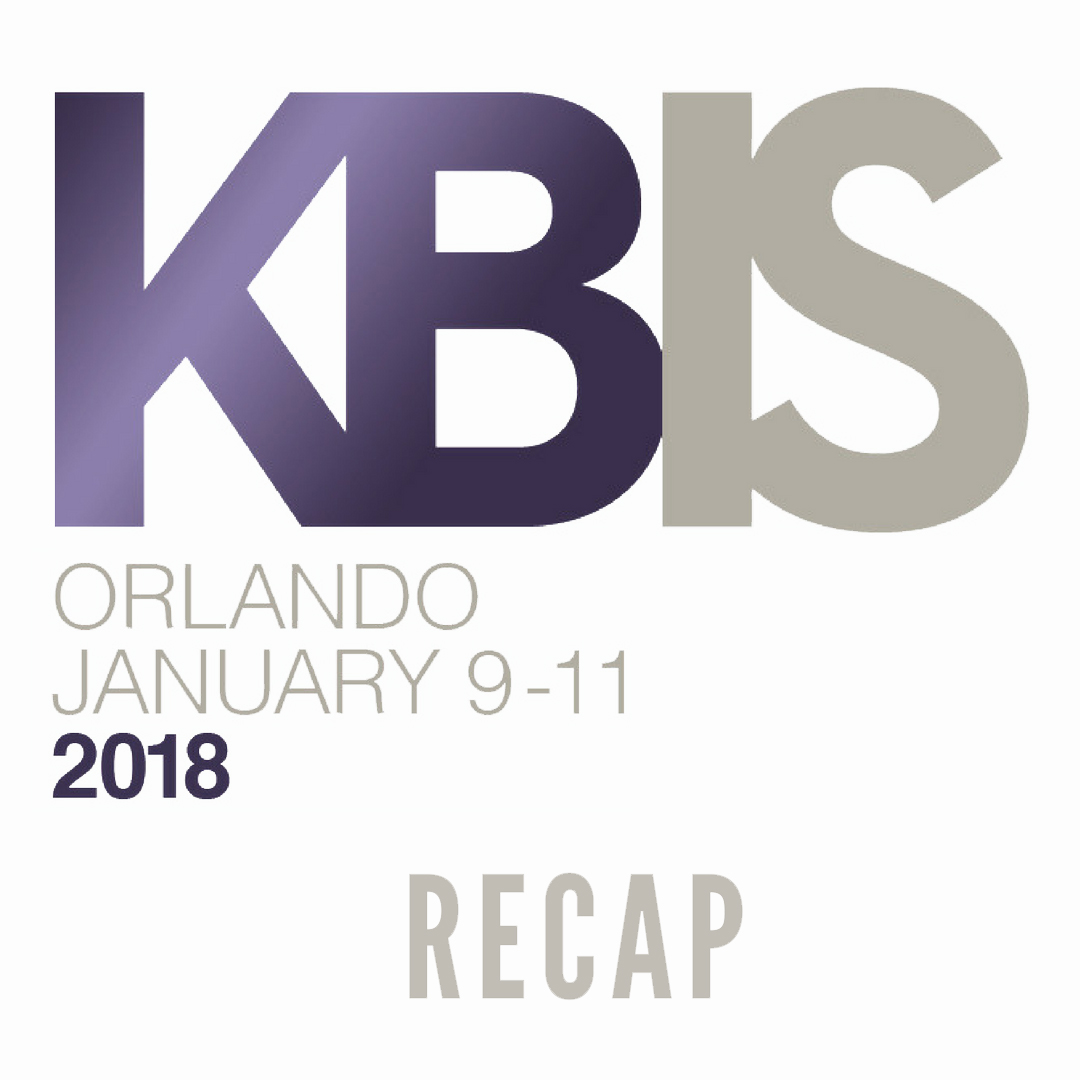 When heading to a tradeshow, one has high hopes that they will discover something that they have not yet seen – something impressive at each and every booth they stop by. CaraGreen typically focuses on sustainable practices and who is incorporating new, innovative ideas into surfacing or other health-enhancing products. Our expectations for KBIS were not too high, given the number of quartz manufacturers that overwhelm the surfacing aspect of the show. Last year there were literally hundreds of quartz companies and this year was no exception. We will summarize our thoughts on the surfacing market at KBIS:
Where was Cambria?
A leader in quartz and often looked to as an industry bellwether, Cambria was conspicuously absent. By all accounts, they had planned to be there, and pulled the plug at the 11th hour.
Nobody really knows what transpired, but to have such a large player absent is not a good indicator for the quartz market. Caesarstone was also not there.
Corian Quartz?
This is the new brand name for Zodiaq. Our opinion is that Corian is still a dated name conjuring up grandma's kitchen, so they are working fast and furious to wrap the fifty year old solid surface under the Corian Design brand to freshen it up a bit. Who knows if this will work, but the separation of the Dupont and Corian brands is widening rapidly as Dupont focuses on its other businesses.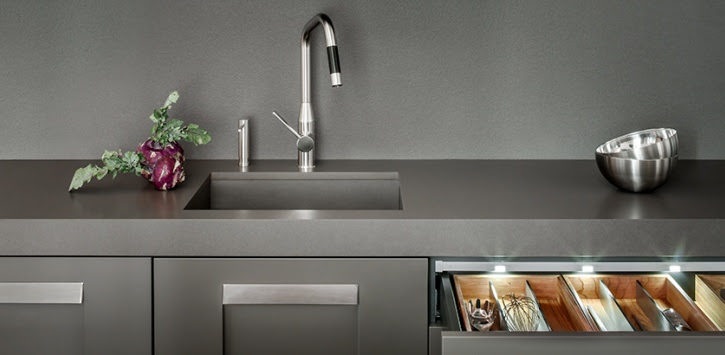 Sintered Stone is the Next Big Thing
We spent a lot of time in the Lapitec booth marveling at their accomplishments in the last year. They truly did have new, innovative technology for inside and outside surfacing. The ability to handle massive swings in temperature allowed them to integrate an induction top through the Lapitec and boil water on its surface. They also had a refrigerated unit underneath the surface chilling Prosecco. Classy. In the outdoor kitchen, they had a Big Green Egg sitting on and butted up against the smoker. Unheard of for quartz. This is the next technology for countertops, and if you think that quartz is king, you took your eye off the ball.
Can't Quantify or Qualify Quartz
Hundreds. That is how many quartz brands were on display at KBIS. Many private labeled out of China from the same factories, just rebranded in the US. If you are using quartz, be smart and ask where it is from and who made it. We need to start qualifying these brands. The smoke and mirrors is deceptive and can be dangerous. There are reputable brands out there, we just had a hard time getting people to fess up and own up to where they are sourcing their quartz.
Porcelain Bandwagon
Porcelain companies love blurring the line between sintered stone and large format porcelain tile. These are different products. Sintered stone was made to be large format surfacing and porcelain tile was made to be tile. Make sure that you know the difference, because many of the suppliers will not share the differences with you. We found many of them were not even familiar with the major differences. Porcelain tile can be thin and break easily, whereas the sintered stones like Neolith, Dekton and Lapitec are in a different category. They are made to be surfacing and made to be large format, they are not scaled up from an existing process; they are a process developed for these applications. Be discerning and be informed.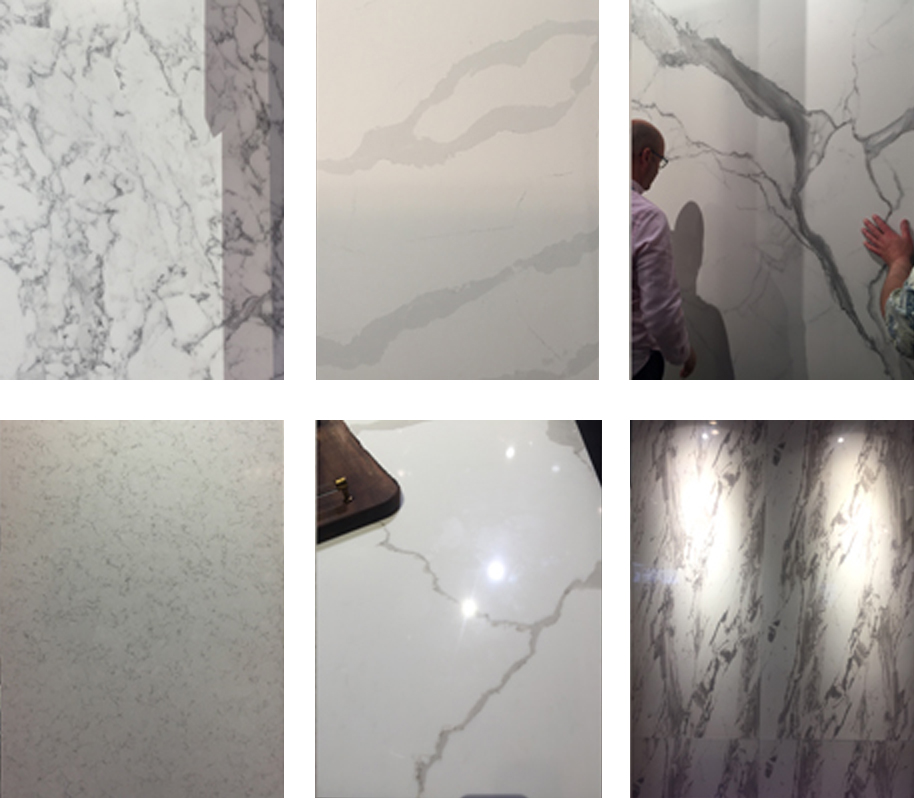 Marble and "Movement"
This was the most overused word at the show when it came to surfacing. Everyone had "movement" in their patterns or veining. If we saw one more marble concoction, we were going to lose our minds. This imitation game has always come across as disingenuous to us. Why do you want to look like something else? I get emulating marble with better performance, but we have always felt that true value add is something you own that differentiates your brand. This was a game of knock-offs where you see this convergence of palettes and everyone has the EXACT SAME color scheme. And when that happens you have to differentiate somewhere else, and that is price, and that is where you drag each other into the trenches.
Kohler Shout Out
Last year, we were shocked by the scale of the Kohler booth and thought it would be really cool if instead of all of their water features and usage at the show, they made an effort to bring water to villages in Africa. We were so excited to see that as part of their booth they had highlighted a program where they were doing just that, giving back and bringing water to impoverished areas that needed it.
Have any observations you made at the show? We'd love to hear them!