Material Matchmaking: How Interior Designers are Swiping Right on Online Platforms
Oh, how the times have changed! Gone are the days when interior designers, in their stylish yet sensible shoes, traipsed from showroom to showroom, collecting samples like kids in a candy store. And those when salespeople dragged rolling showrooms door to door to the design firms, wistfully hoping they would keep some to lose in their chaotic design library. Now, in the digital age of convenience, we've swapped our shopping bags and 100-pound suitcases for browsers and our sore feet and jacked biceps for search bars and digital shopping carts. Welcome to the era of Material Matchmaking 2.0!
Swiping Right on Material Bank
First on our hit list is Material Bank. Think of it as the Tinder for tile and countertops or the Bumble for bricks and wallcoverings, if you will. It is a platform where designers can flirt with fabrics and engage with engineered surfaces from the comfort of their ergonomic office chairs. Swipe right on that solid surface sample? You betcha! And the best part? Overnight shipping that makes even the most impatient of us swoon.
A Love Affair with SwatchBox
Next up, SwatchBox. Imagine a world where you can get up close and personal with your materials without ever leaving your lair. SwatchBox is making dreams come true, providing designers with a smorgasbord of samples straight to their doorstep. It's like speed dating, but with veneers and laminates.
Material Bank: A Deep Dive
Welcome back to the high-energy, slightly irreverent world of interior design in the digital age. Let's dive deeper into the fabulous realms of Material Bank and SwatchBox, because trust me, they deserve the spotlight.
The Amazon of Aesthetics
Material Bank has positioned itself as the powerhouse of the sample world, boasting an inventory that would make even the most seasoned hoarder blush. Imagine walking into a warehouse filled to the brim with every conceivable material, texture, and color under the sun. Now imagine you can access all of that from your laptop while sipping a latte in your pajamas. Welcome to Material Bank.
Pros:
The Selection: It's vast, it's varied, it's virtually everything you've ever dreamed of.
Speedy Gonzalez Delivery: Ordered today? On your desk tomorrow. Yes, really.
Sustainability Sweetheart: They're all about reducing waste, with reusable packaging that makes you feel good about your choices.
Cons:
Overwhelming Options: Sometimes, more is just…more. Where do you even start?

SwatchBox: Not Your Grandma's Sample Service
Next, let's shimmy over to SwatchBox, where the future of material sampling meets the charm of a bygone era. It's quaint, it's quirky, and it's quickly becoming the go-to for designers in the know.
The Boutique Experience
SwatchBox is like that cute, hole-in-the-wall boutique you stumbled upon and can't stop raving about. It's personal, it's thoughtful, and it's got that je ne sais quoi.
Pros:
Curated Collections: They've done the hard work for you, curating collections that are as cohesive as they are chic.
Personal Touch: You're not just a number; you're a valued client with tastes and preferences that are catered to.
Quality Over Quantity: They may not have the sprawling inventory of Material Bank, but what they do have is top-notch.
Cons:
Limited Selection: While everything they offer is a gem, the choices are not as vast.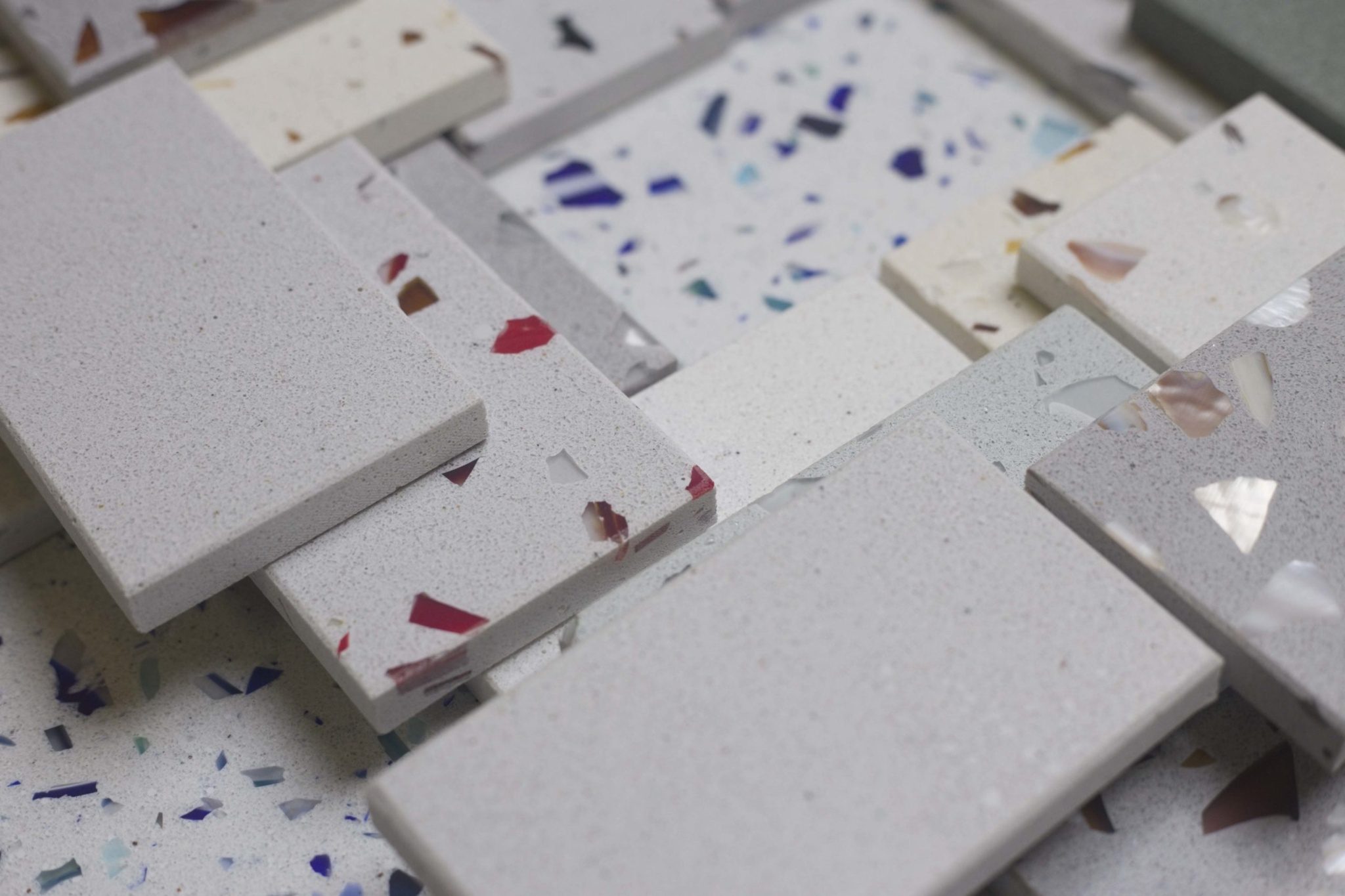 So there you have it, a whirlwind tour through the worlds of Material Bank and SwatchBox. Whether you're looking for the digital equivalent of a warehouse-sized candy store or a boutique experience that makes you feel like interior design royalty, these platforms have got you covered. The future of material sampling is here, and it's fabulous, darling.
So, dear designers, as we bid adieu to the blisters from showroom hopping and lunch and learning in earnest and embrace the digital renaissance of material matchmaking, let's raise our glasses (or our ergonomic mice) to the future. A future filled with late-night browsing, instant gratification, and a world of materials at our fingertips. Here's to finding our material soulmates online! Cheers!