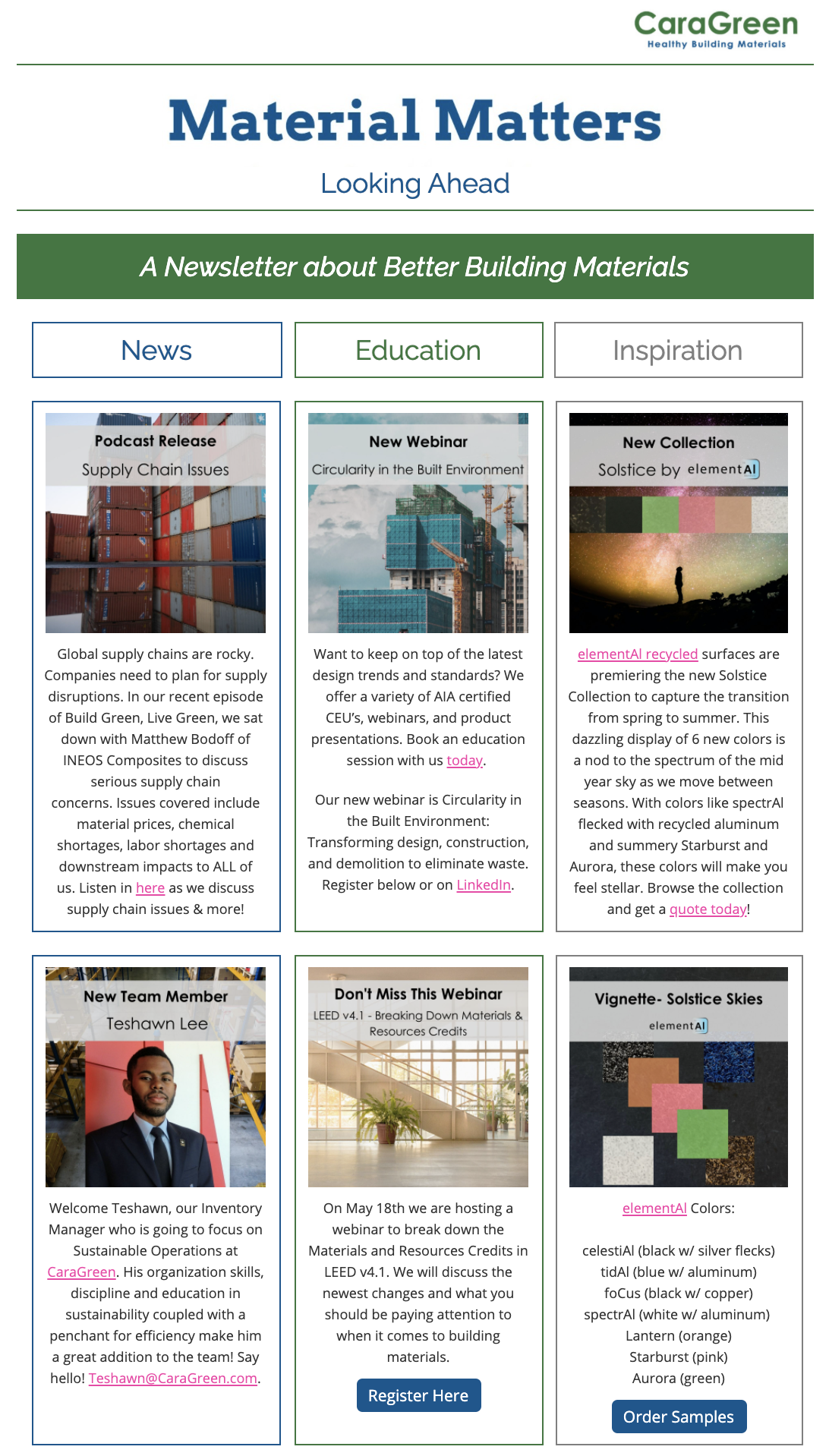 Global supply chains are rocky. Companies need to plan for supply disruptions. In our recent episode of Build Green, Live Green, we sat down with Matthew Bodoff of INEOS Composites to discuss serious supply chain concerns.  Issues covered include material prices, chemical shortages, labor shortages and downstream impacts to ALL of us.  Listen in here as we discuss supply chain issues & more!
Welcome Teshawn, our Inventory Manager who is going to focus on Sustainable Operations at CaraGreen. His organization skills, discipline and education in sustainability coupled with a penchant for efficiency make him a great addition to the team!  Say hello!  [email protected]
Want to keep on top of the latest design trends and standards? We offer a variety of AIA certified CEU's, webinars, and product presentations. Book an education session with us today.
Our new webinar is Circularity in the Built Environment: Transforming design, construction, and demolition to eliminate waste. Register on our website here or our on LinkedIn.
On May 18th we are hosting a webinar to break down the Materials and Resources Credits in LEED v4.1. We will discuss the newest changes and what you should be paying attention to when it comes to building materials. Register on our website.
elementAl recycled surfaces are premiering the new Solstice Collection to capture the transition from spring to summer. This dazzling display of 6 new colors is a nod to the spectrum of the mid year sky as we move between seasons. With colors like spectrAl flecked with recycled aluminum and summery Starburst and Aurora, these colors will make you feel stellar. Browse the collection and get a quote today!
elementAl Surfaces
Clockwise from top left:
elementAl Heavy celestiAl
elementAl Heavy tidAl
elementAl Heavy foCus
elementAl Heavy spectrAl
elementAl Light orange Lantern
elementAl Light pink Starburst
elementAl Light green Aurora.                      Order samples here!