Durat Solid Surface BIM models are now available!  Add color to your projects today!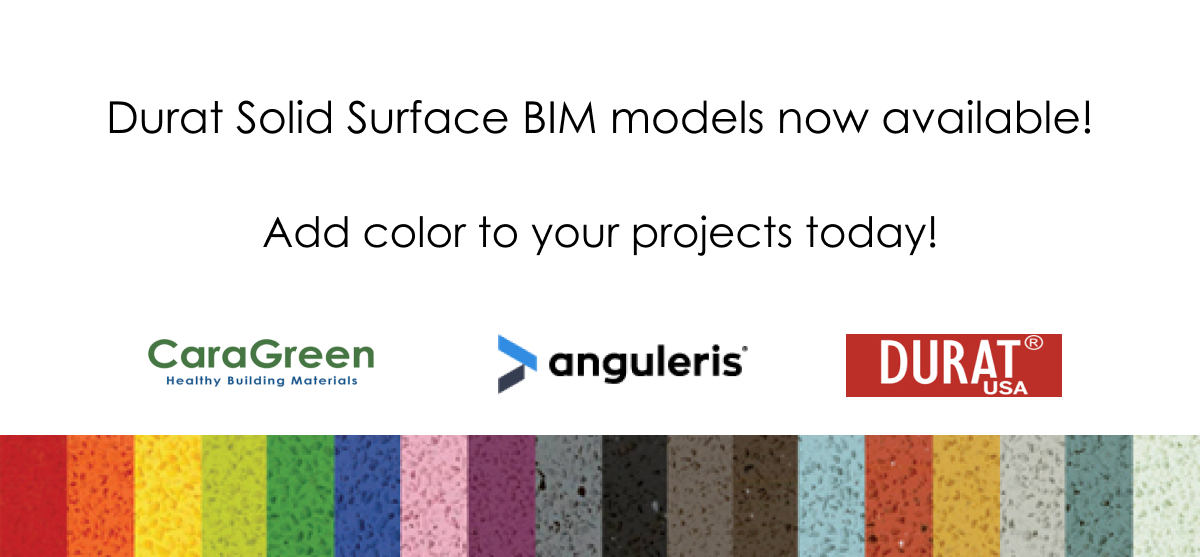 CaraGreen Announces Partnership with BIMsmith to Provide BIM Resources for Durat Solid Surface Products
CaraGreen, a distributor of eco-friendly products as healthier alternatives to conventional building materials, has partnered with BIMsmith®, the leading platform for building product research and selection, to provide a new suite of Building Information Modeling (BIM) tools for architects and designers to design with Durat Solid Surface materials in BIM projects.
The partnership involves the creation of new data-rich digital models of Durat's recycled solid surface products. The models integrate seamlessly with Autodesk Revit®, the leading BIM software for architectural design, and contain critical visual and performance data about Durat products to help design professionals make informed decisions about material performance and sustainability. Furthermore, by leveraging the visualization capabilities of BIM, the digital materials also allow architects and designers to produce lifelike renderings of Durat solid surfaces within their designs.
"CaraGreen is dedicated to increasing overall awareness of sustainable materials for the building design community." said Jessica McNaughton, CaraGreen (NA Distributor for Durat). "Our new and comprehensive BIM resources for Durat Solid Surfaces do just that, empowering building professionals to implement high-performance recycled surfaces throughout their projects."
"In the modern world of architecture and construction, sustainability is a key consideration throughout every phase of a project," said Benjamin Glunz, CEO of BIMsmith. "We are excited to partner with CaraGreen and Durat to help make this process easier on building professionals."
View the new Durat BIM Library on our site here  or on BIMsmith.
About Durat Solid Surface Material
Durat solid surface offers the most extensive color palette on the market with 70 standard options, and up to 720 base colors.  Durat is used to create seamless, easily cleaned surfaces for countertops, furniture, casework, and integrated sinks. Durat has up to 28% recycled content, and is fully recyclable, making it a great option for designs where circularity is a priority.
About BIMsmith
BIMsmith®, the leading cloud-based building product discovery and selection platform, cultivates global business-to-business relationships between building industry professionals and building product manufacturers. Through direct integration of real product data into the BIM workflow, BIMsmith continues to shape the future of building science technology, placing its clients at the forefront of BIM innovation while addressing industry professionals' true needs. Learn more about BIMsmith at www.bimsmith.com.
Contact: Jessica McNaughton