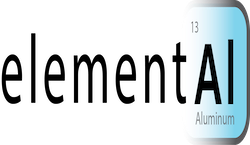 .

NEWS ANNOUNCEMENT FOR IMMEDIATE RELEASE
CaraGreen Launches elementAl Solstice Collection
Recycled acrylic surfacing captures the transition of Summer with new colors
RALEIGH, NC, August, 27, 2021 – CaraGreen, the trusted source for healthier building materials, announced today the availability of six new colors in elementAl's Solstice Collection. This dazzling display is a nod to the spectrum of the mid-year sky as we move between seasons.
The Solstice Collection consists of elementAl Light and elementAl Heavy. The Light collection features semi-transparent resin surfaces that are ideal for backlighting, unique table tops, and dynamic signage. The Heavy collection provides more depth with the infusion of recycled metals into the surface. elementAl has added four new colors to the Light collection and two new colors to the Heavy collection.
elementAl surfaces illuminate your space with vibrant colors and enlighten your occupants with a unique sustainability story. All elementAl products are made in Buffalo, NY with 87-93% recycled content.
The new colors of the series are:
– Light Aurora, a lime green resin (semi-transparent)
– Light Lantern, a deep orange resin (semi-transparent)
– Light Starburst, a soft pink resin (semi-transparent)
– Light Blacklight, a soft matte black resin (semi-transparent)
– Heavy Spectral, classic white resin with depth added by flecks of aluminum
– Heavy Swagger, golden flecks of metal set in black resin
About elementAl
Made from up to 93% recycled material, elementAl surfaces turn what would be waste into bold and inspiring surfaces that not only perform well, but offer a seamless solution to an industry problem. elementAl surfaces address the need for a more sustainable economy, in our offices and in our homes. elementAl's unique aesthetic is informed and emboldened by its story. To find out more and view the entire stunning collection, visit: www.elemental-surfaces.com.
About CaraGreen
CaraGreen LLC, headquartered in Raleigh, North Carolina, distributes eco-friendly products as healthier alternatives to conventional building materials. CaraGreen matches the needs of architects, designers and builders, identifying and supplying beautiful and technically advanced products that help mitigate adverse effects on people and the environment. CaraGreen offers support for all project types ranging from residential kitchens to corporate environments. The company offers a variety of brands and environmentally-friendly products, including surfacing materials, acoustic solutions, insulation and exterior cladding. CaraGreen also works to educate design and building communities on how products can contribute to creating healthier spaces. To start a conversation with CaraGreen, please visit: www.caragreen.com.
CaraGreen Company Contact: Jessica McNaughton | 919.348.6679 | [email protected]