Drop your mouse and back away from your shopping portal.
Retailers vow to keep a grip on their in-person clientele as our safety and pandemania has caused us to become increasingly dependent on online ordering. The online experience is evolving to be immersive and so realistic, we almost feel like we ARE in the store. The store we remember anyway.
Which brings us to the Retail Revival, where as we shift back to some recollection of normalcy, we reconsider what is enough to bring us out shopping in person again.
Stores will soon be looking to captivate consumers and to give them a reason to visit their brick and mortar locations instead of shopping online.
Retailers need to rethink the in-store experience. It must attract the senses that can not be accessed behind a screen. Touch and feel, smell, in person visualization.
The stage is set for our breakout performer, new to the scene, but so relevant and on trend: Organoid natural surfaces.
Organoid engages shoppers in more ways than one, once again making shopping in person a mindful clique instead of mindless click.
Run for the Roasnbliatn
Organoid takes natural materials like rose petals, mixes them with a bio-based glue, and puts them on carriers such as wallpaper self-adhesive or high pressure laminate. The result is a rose petal material that can be applied directly to the wall, or used as a veneer to make furniture and retail displays.

Rose petal wallpaper not only creates a wonderfully fragrant and visually stunning atmosphere for shoppers and employees, it triggers positive reactions in our subconscious that we normally only experience in nature.

Available in a dense or light/translucent sheet.

The displays at Liberty London (see below) are impossible to ignore.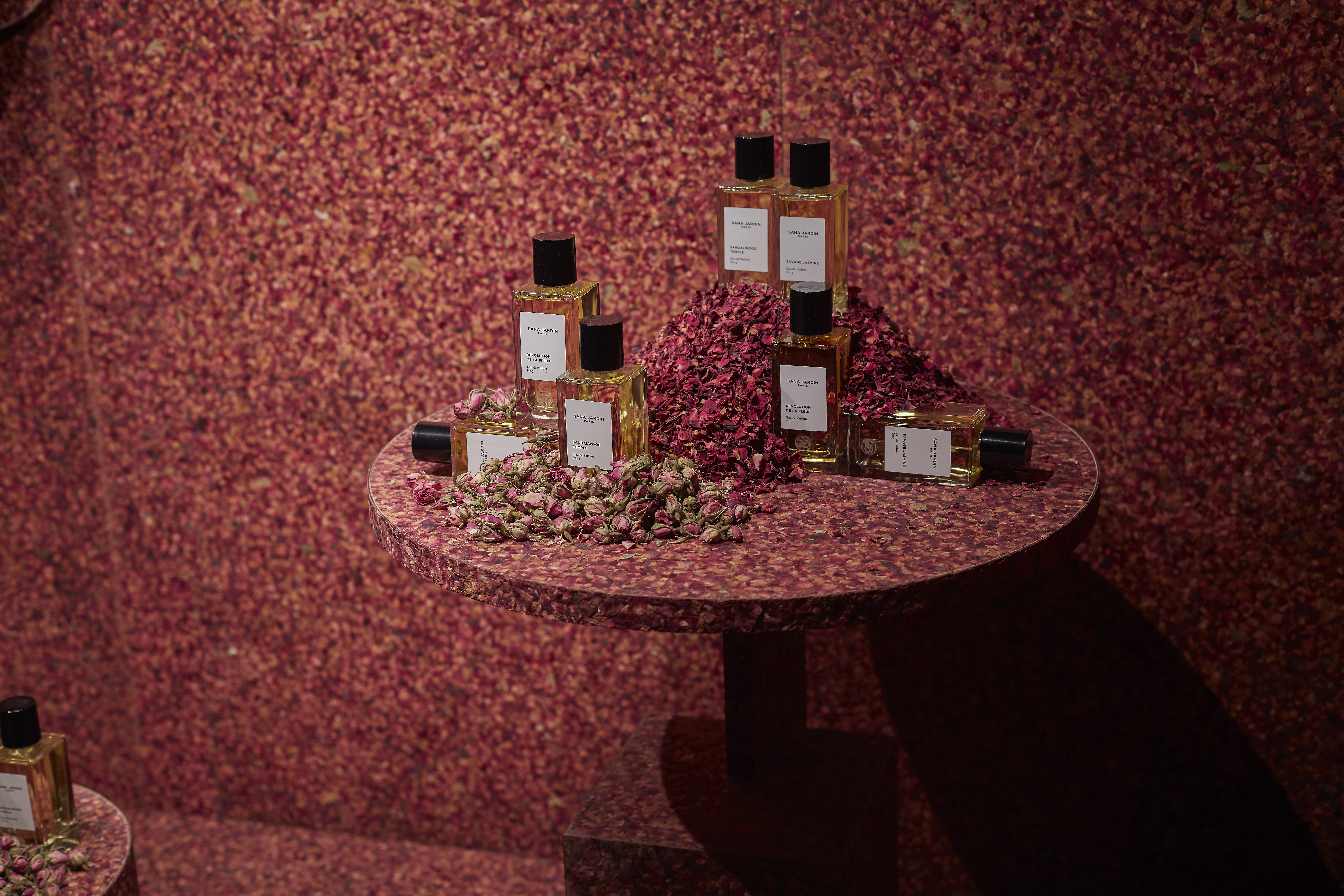 Pictured: Organoid Roasnbliatn for Liberty London.
Love it or Lawendl
Biophilic design brings the outside inside [we could link to our Biophilic Design course description for more info]. Studies have shown numerous benefits for building occupants who experience it, like improved mood and increased productivity.

Biophilic design can be implemented in ways like implementing natural materials, colors like greens and blues, and shapes and patterns found in nature.

Both shoppers and employees can experience lowered stress levels in biophilic environments, which can be a great tool in an already stressful environment. Lawendl surfacing is a calming mix of lavender stalks and blossoms.

Who hasn't had a flash of anxiety when stepping on an elevator? Nelson's Atlanta office is using Organoid Wanilla (post-industrial vanilla bean pods) in the elevator banks of a mixed-use project in Cary, NC.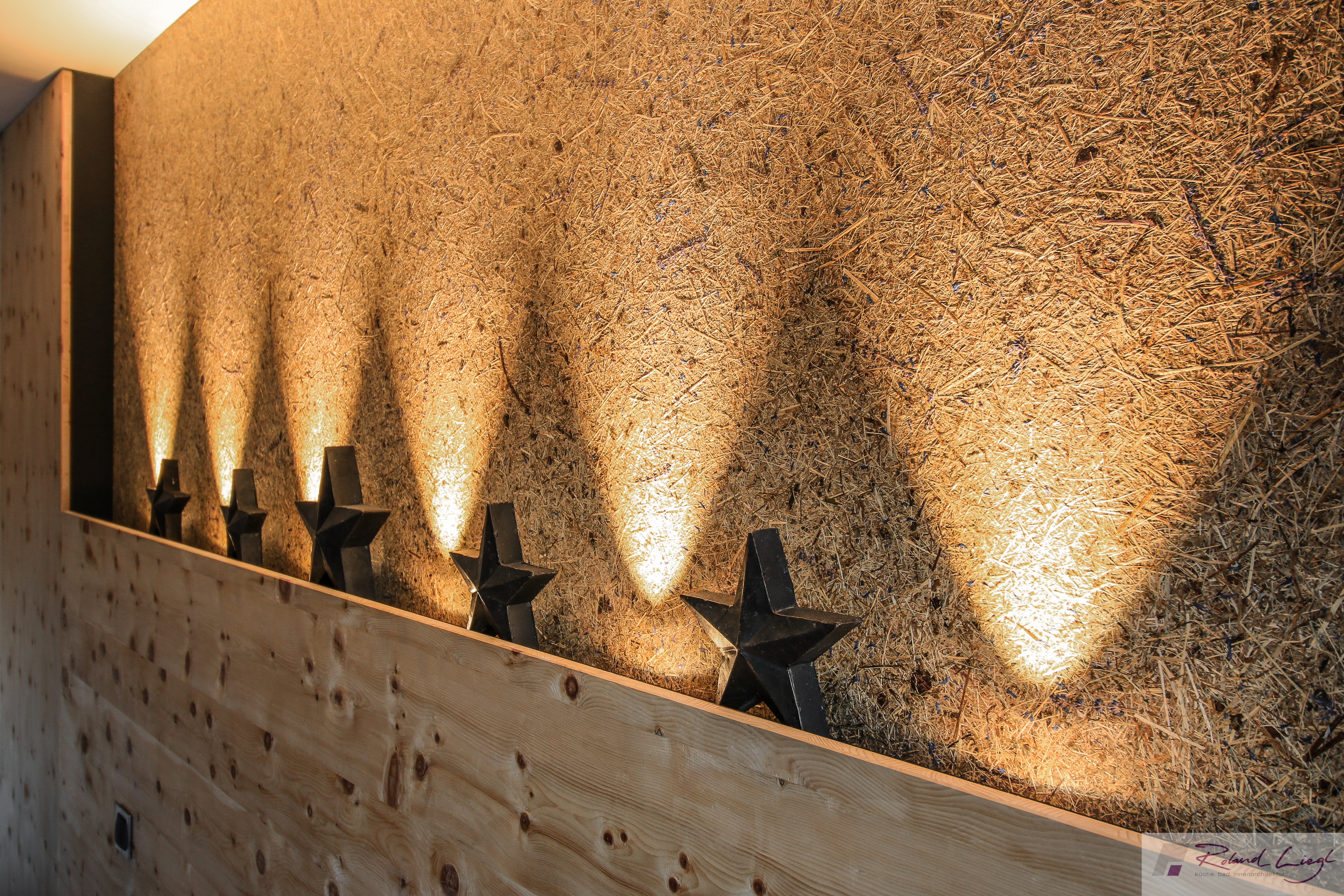 Pictured: Lawendl HPL
Wolla-ever Your Heart Desires
From Tyrolean Stone Sheep's wool, to sunflower seeds, Organoid offers a diverse array of materials. Their manufacturing facility in Austria sustainably plucks harvests Alpine hay, wildflowers, and moss straight from the nearby mountainside.

Other materials are recycled from post-industrial operations, like vanilla bean pods leftover from a pudding factory, or lavender and peppermint from a tea factory. Depending on the size and conditions of the space, vanilla materials can keep their sweet scent for upwards of five years.

Organoid can create custom surfaces based on your project needs. You can ship Organoid your own natural materials, they'll create a surface, then ship it back to you.
Pictured: Wolla at Gruene Erde GMBH Store
Wild About Wildspitze
Wildspitze, made of Alpine hay plucked from the Tyrol mountains, creates an eye-catching display at Intersport Fleiss.

Shoppers perceive spaces with biophilic elements to be more expensive and will spend more time and money there.

Using Organoid surfaces not only encourages customers to linger, but creates a shareable experience resulting in organic marketing (pun-intended) as photos are shared with friends.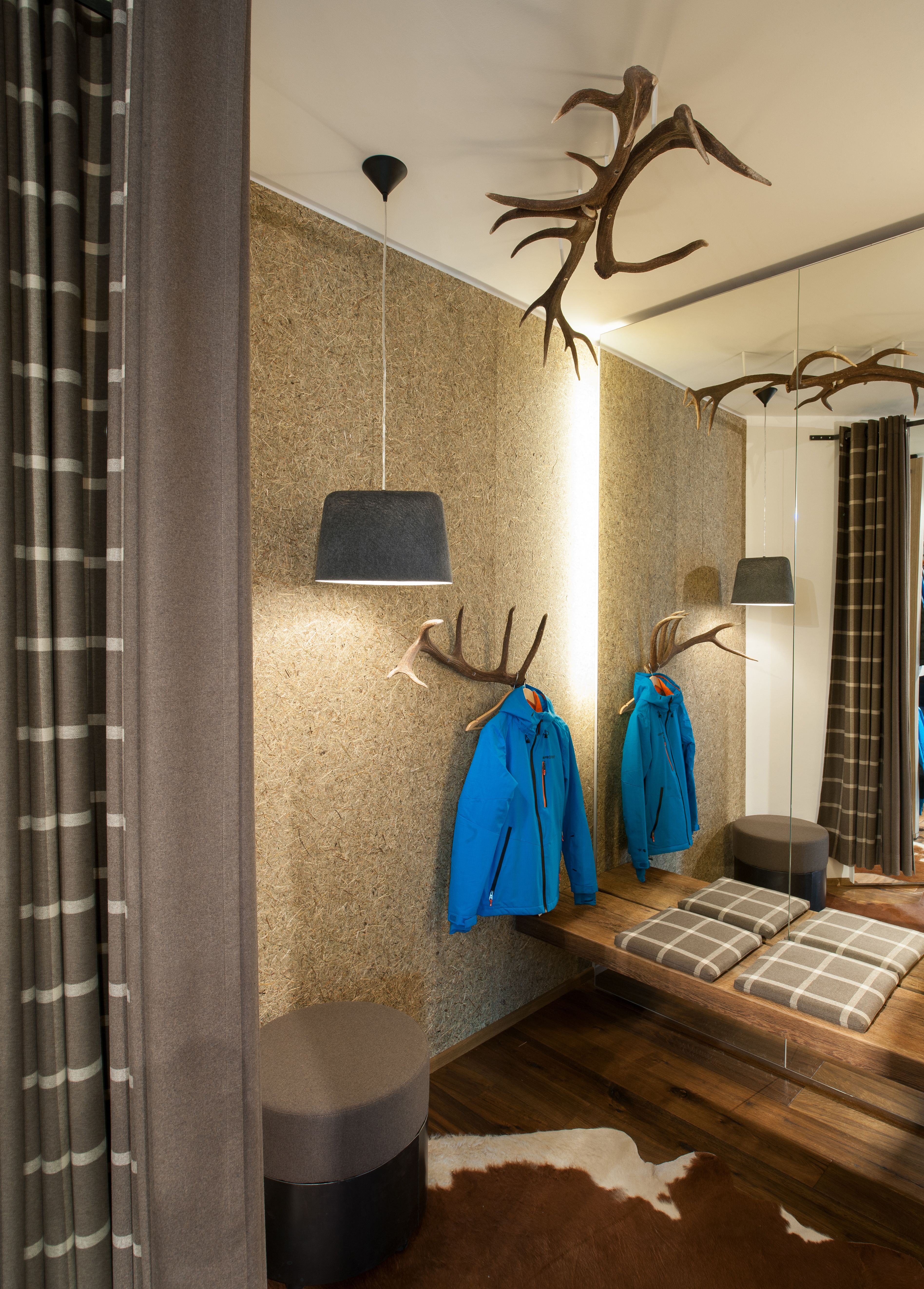 Pictured: Wildspitze for Intersport Fleiss
Just a Sprinkle of Dinckl
Organoid Light collection disperses on its carriers the same gorgeous materials in a less dense fashion, creating just a sprinkle of dinckl (spelt husks), if you will.

Companies can incorporate Organoid into their packaging creating products begging to be featured in unboxing videos, like Hunter Luxury's perfume boxes

Organoid can transform just another cardboard box into a work of art that can be repurposed and reused for years to come. If you think you don't need tiny boxes in your life Marie Kondo will change your mind.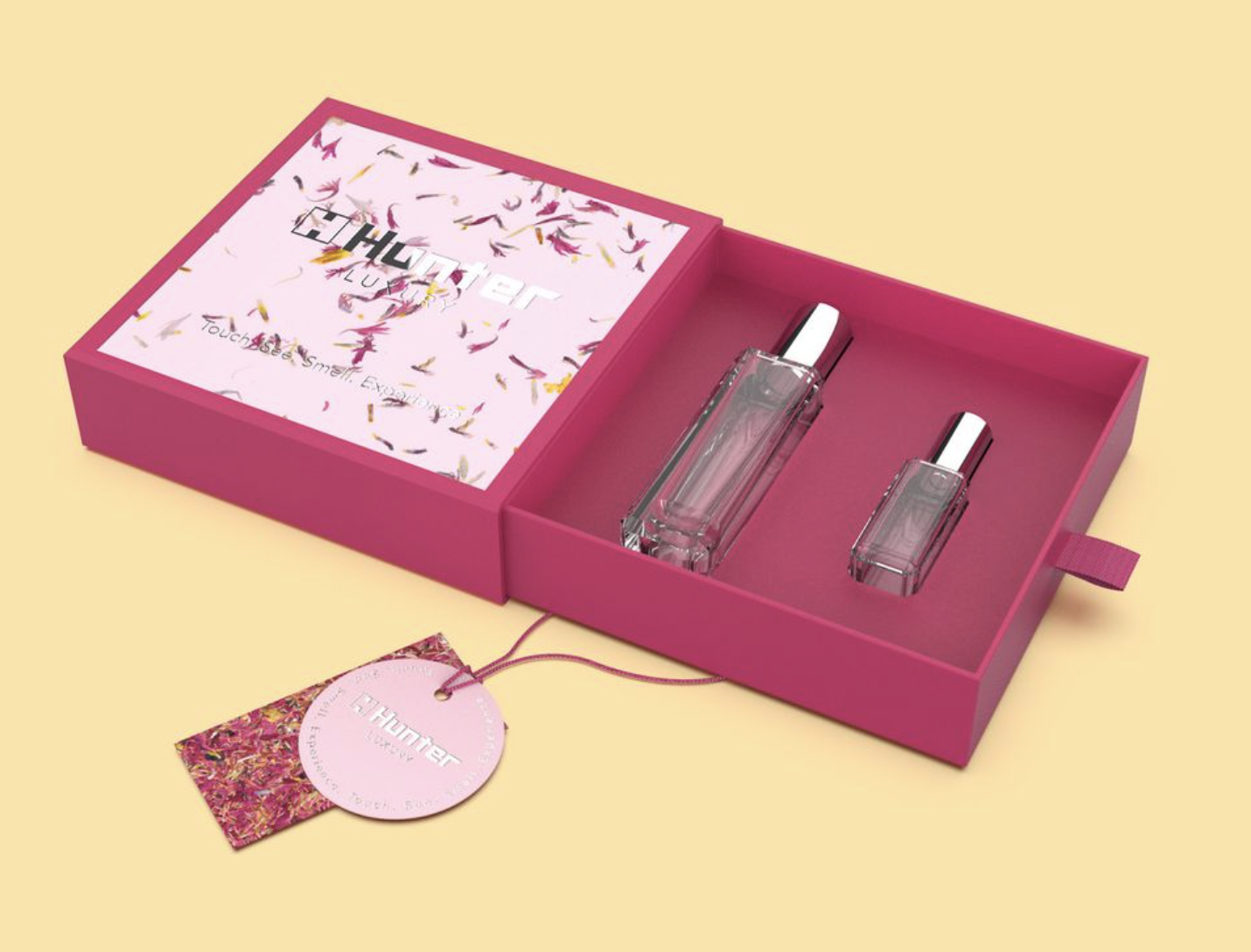 Pictured: Organoid Roasnbliatn Light for Hunter Luxury perfume boxes.
Not Just Another Wanilla Wallpaper
Organoid gives you the design freedom to utilize their catalogue of natural materials on a variety of carriers such as:

Wallpaper Natural Flax

Wallpaper Self- Adhesive

High pressure laminate – processed like a veneer for furniture and displays

Self locking flooring

Glue down flooring

Acoustic non-woven fabric

Self-adhesive

Translucent self-adhesive

Non-woven backing (decomposable)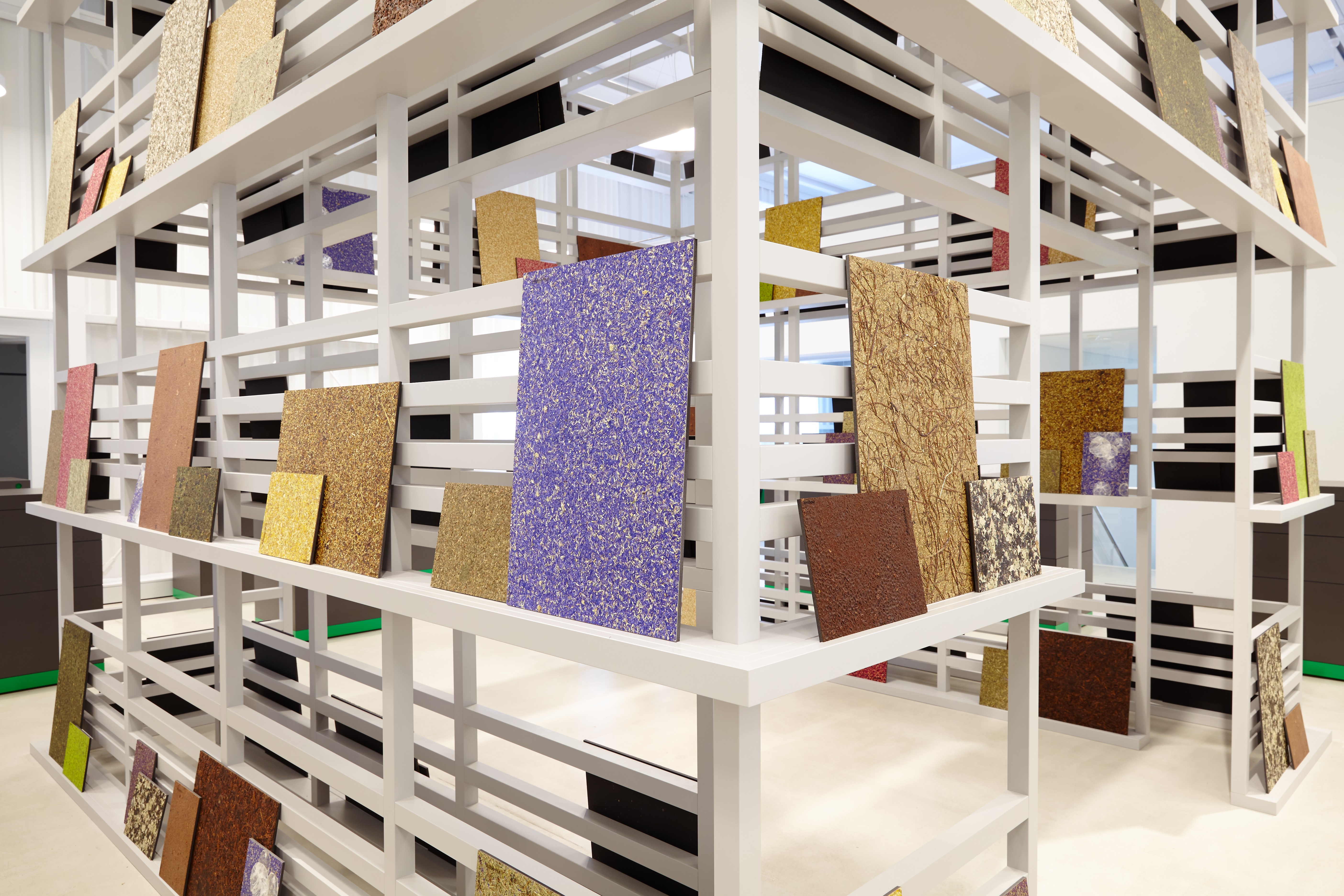 Pictured: Organoid featured at House of Materials (Haus der Materialien)
Request your Organoid Natural Samples here.
Schedule a virtual trunk show to learn more about Organoid here.