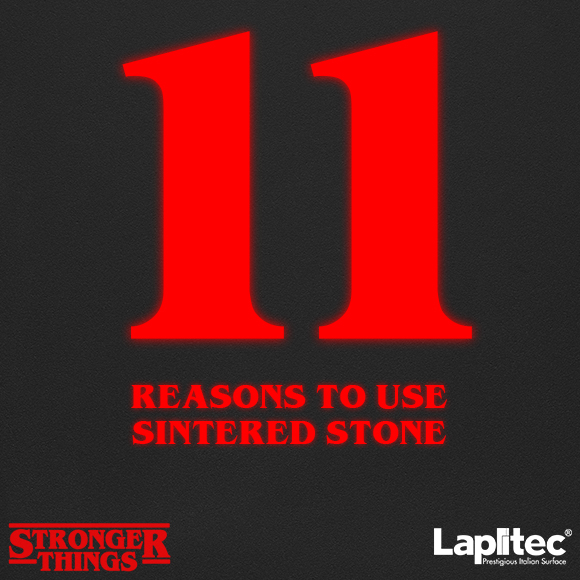 We've spent a lot of time covering the trials and tribulations of the ongoing quartz and granite saga, and things aren't getting any less complicated. Tariffs continue to skyrocket while manufacturers, designers, and fabricators alike are beginning to feel the impact on their wallets. Meanwhile, the public opinion continues to shift, as trends come and go and consumers grow smarter. They want more out of their surfacing. It's no longer just about price and that perfect veining the Jones family has next door in their too-perfect starter kitchen. It's about health – the health of our families and the health of the workers producing the material. It's about performance. It's time for stronger things than quartz and granite.
Related: The Ultimate Quartz Alternatives Product Guide
As Stranger Things pervades every corner of the social sphere, we couldn't help but draw parallels between the hit Netflix show and our favorite strong and strange material, Lapitec sintered stone. We think sintered stone is the next material that will turn the surfacing world upside down. As a nod to our favorite telekinetic television teen, here are 11 reasons to choose sintered stone:
It's time for something better.
Granite and quartz can yellow, stain or etch in the wrong environment, and their aesthetic is waning. Commodities at best, quartz and granite have been relegated to entry-level new construction and it is time for a new, better material. Lapitec is here.

Sinter is coming.
There is no doubt that the future of surfacing is sintered stone. Built upon the shortcomings of quartz and suitable for interiors, exteriors, flooring, walls, and counters, sinter is here.

It's your forever countertop.
Lapitec is so durable, it should last a lifetime. You should not have to worry about staining, etching, scratching and cracking on your floors, counters or buildings. With Lapitec you don't.

Save Your Money
Due to its unique design and compact composition, dirt is unable to penetrate Lapitec, making it SO easy to clean, that you can save your money on expensive detergents and floor cleaners. Lapitec can result in 50% less detergent use. The ocean and your wallet will thank you.

Unbounded
There are no resins in Lapitec. It is held together by heat and pressure and compressed into a rugged slab that takes its cues from volcanic rock. Biomimicry at its finest.

Stains are Pains
Lapitec does not stain. Any surface grime is easily wiped away due to its hydrophilic properties (think water spreads and lifts dirt easily)

Solution for every Surface
Lapitec is not just a flooring tile, not just a countertop. In three different thicknesses and seven textures it can be combined to create a multi-textured, multidimensional space using the most superior of materials.

Feel the Finish
From silky smooth to grippy and gritty, Lapitec comes in seven standard finishes that will be music to your feet and hands. (need new text)

Handles the Heat
Put that pot of pasta down. Lapitec can handle the heat and will not get out of the kitchen. It owns the kitchen now. Put your hot pot right on it. No other surface can say that.

Quartz is a Hot Mess
Not only does it not stand up to heat as well as Lapitec, but 400% tariffs have virtually wiped out hundreds of quartz brands and now quartz from India, Turkey and even Europe are looking at additional tariffs.

Granite is soooo 2005.
I mean, do we need to elaborate here?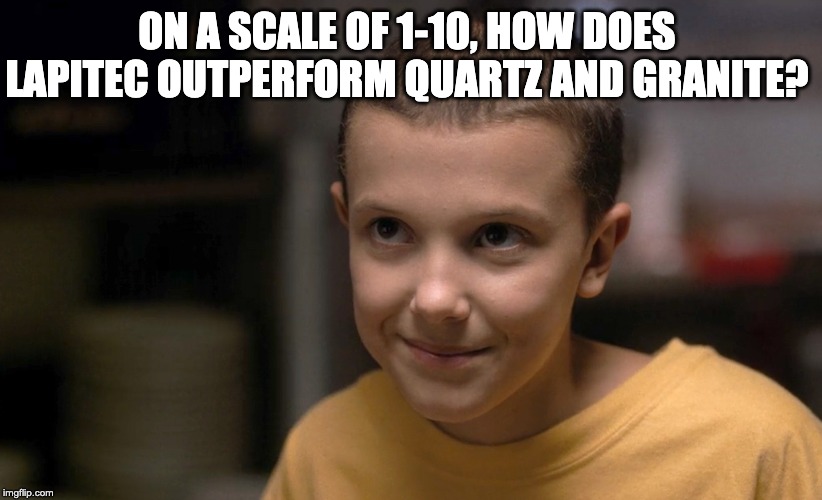 Looking for more reasons to choose Stronger Things? Follow along on social all month long as we highlight why Lapitec sintered stone is the ultimate material.
Click here to follow us on Instagram.