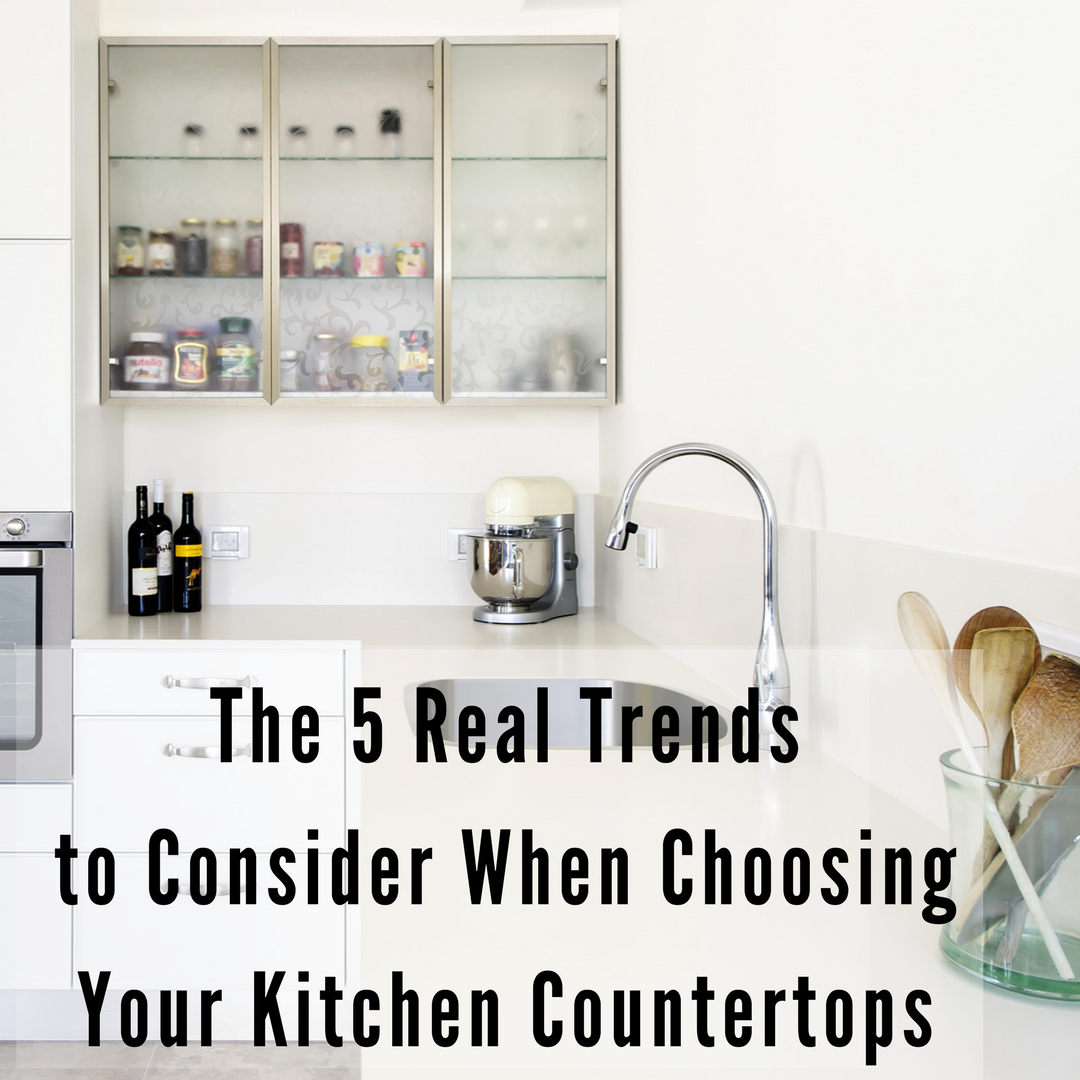 It is not uncommon to run into articles that are pushing so-called trends which are actually outdated and do not appeal to the upcoming group of homeowners and renovators. This article is intended to represent a broad array of trends that are not just aesthetic, but emotional as well, which is how the current generation makes a lot of purchases.
Here are the 5 biggest trends we think you should consider when choosing your countertop:
1) Texture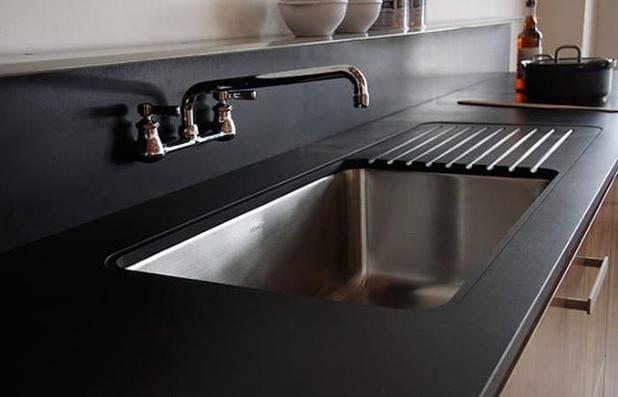 PaperStone counter in the color Slate.
Glossy finishes can be seen as dated, reflecting light and showing every fingerprint and wipe marks. Matte, leathered or lightly textured finishes are becoming much more common. You find people constantly wanting to touch them and they generally have a warmer, homier feel than a cold high gloss top. The matte black color is currently trending in many products and design features. After attending KBIS, we know this is true (search the hashtag #kbis2018 to see)! Matte black finishes are the second point listed in the article: "Interior Design Trends Expected to Take Hold in 2018" from Houzz.
2) Movement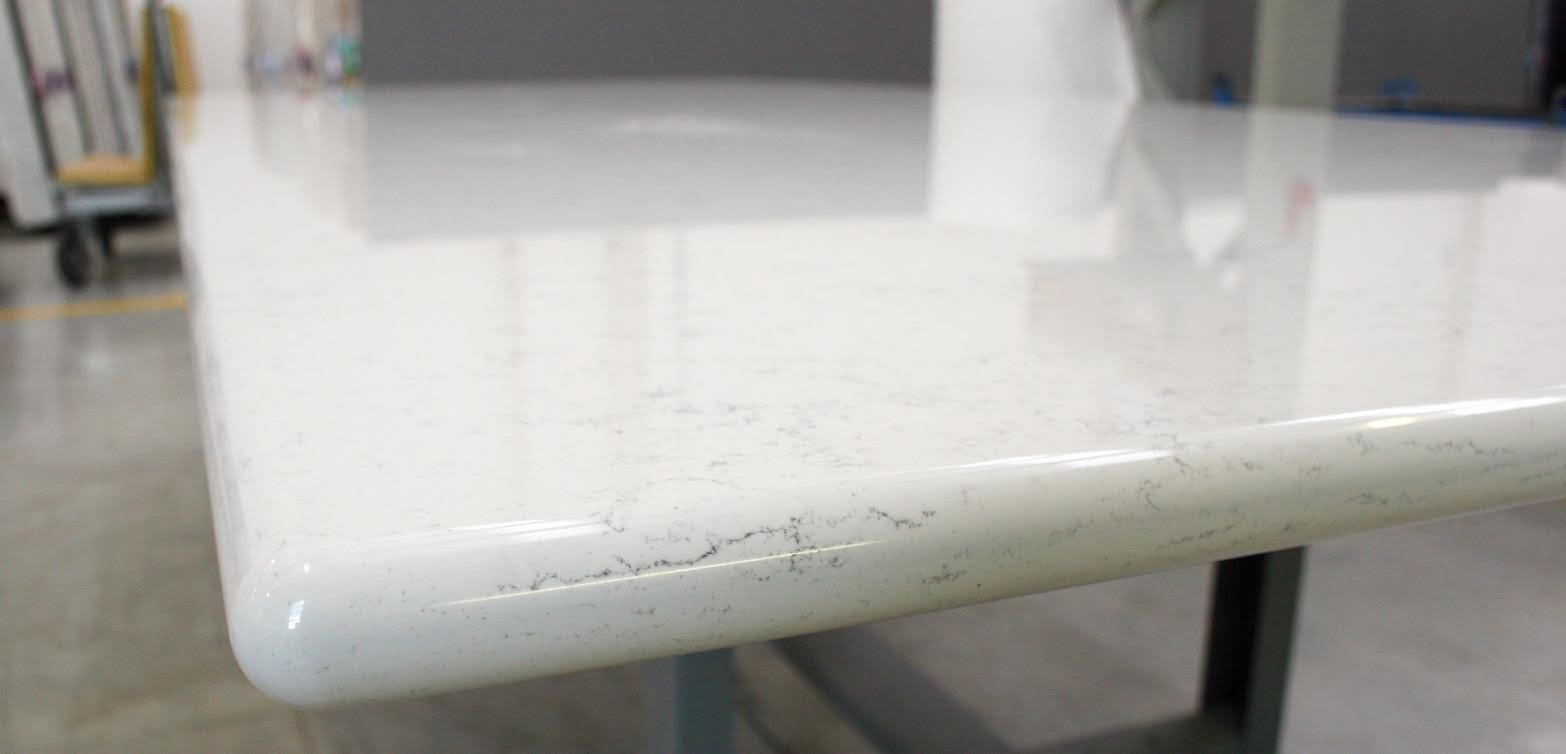 Lapitec Sintered Stone in Arabescato Michelangelo.
This word is ubiquitous in the countertop world, with everyone touting the "movement" in the countertops. This really refers to the veining and patterning and how that runs through the slab itself. Since many of the marbled materials are quartz, they are man-made, so the veining is either trying to look natural (like real marble) or it is more patterned. Controlling the edging and making sure it can be book matched or look like a continuous veining pattern, can be very difficult to achieve. Be discerning when choosing the person doing the templating and install, and make sure that you can see how the patterning will actually look when it is installed.
3) Not Granite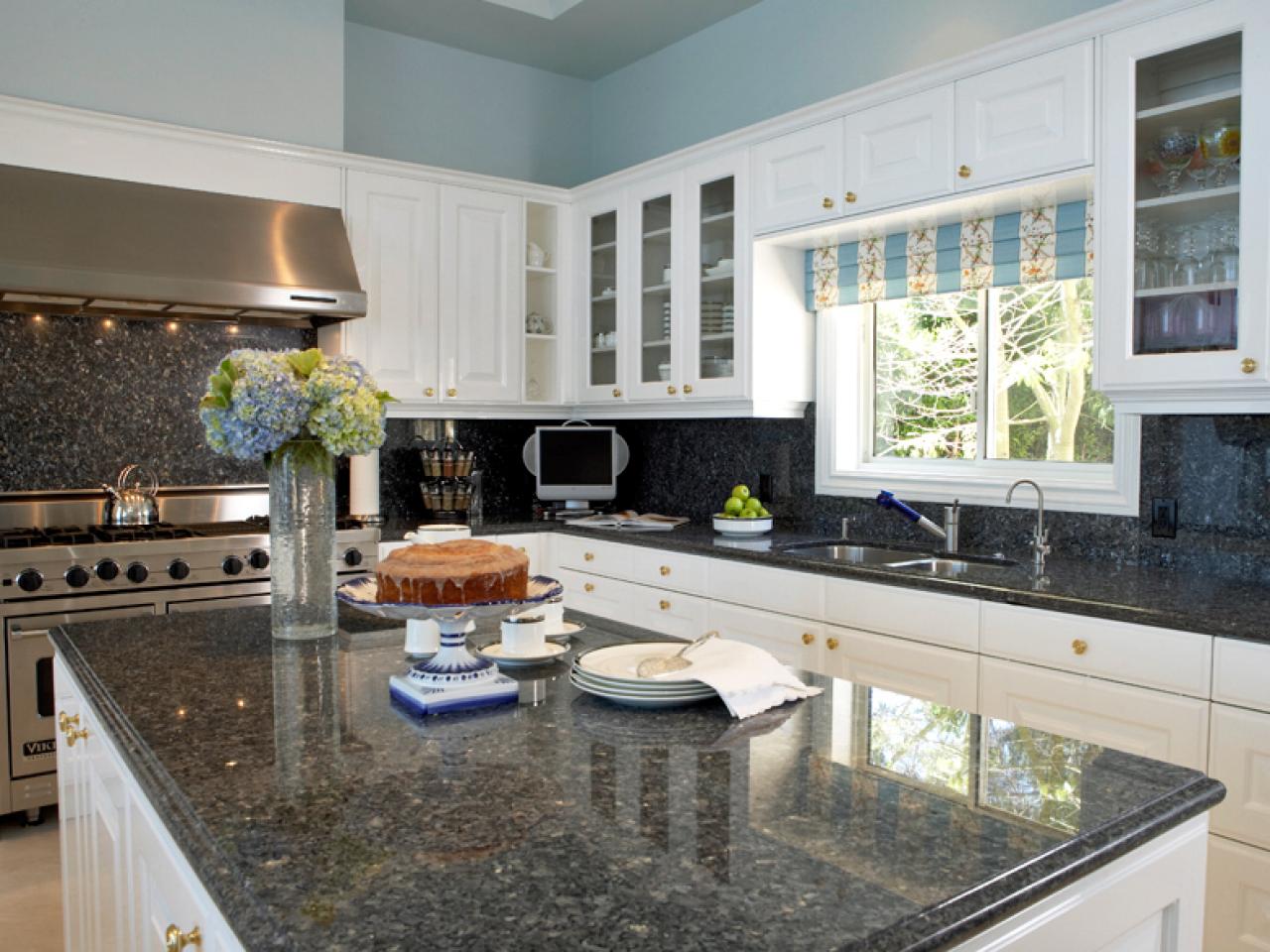 Every countertop type experiences a generational shift and unfortunately, granite's time is up. The same thing happened to laminate and Corian. Man-made options like quartz have become the dominant new choice for new countertops and will continue to be the standard moving forward. Along with quartz, options like glass, concrete, and sintered stone offer nice alternatives to granite if you want to get away from mined stone altogether. Quartz mines stone the same way that granite does. Also, natural stones like Quartzite are becoming popular as they have unique colorways as well.
4) The Environment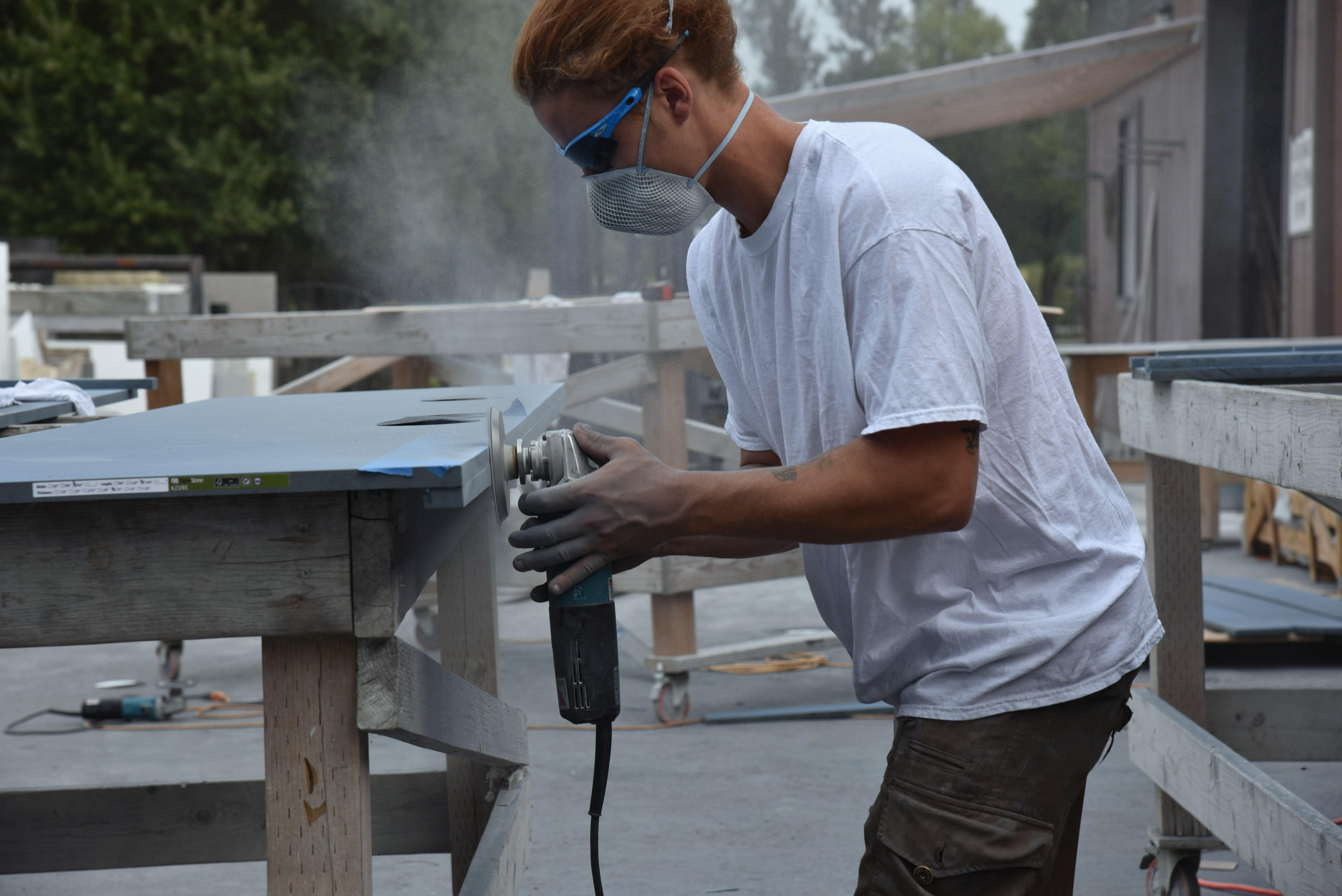 PaperStone being cut in the color Azure.
The current consumer is pretty savvy to products that have a negative environmental impact, and natural stone often falls into that category, as does quartz. They are both mined materials with high silica contents that can impact the residents of the areas in which they are mined, the workers who mine them and cut them, as well as the stone facilities that cut them and turn them into kitchen countertops. Great care must be taken to mitigate these impacts. Alternative materials that use recycled content are not only different, but they have a good environmental story that appeals to millennials, and anyone else who cares about the planet. Options here include IceStone, Vetrazzo, and Gilasi, all recycled glass countertops. PaperStone and Richlite, which uses recycled paper. Do your homework to see which are truly sustainable though. Just because there is glass or paper, does not necessarily mean it was recycled!
5) Performance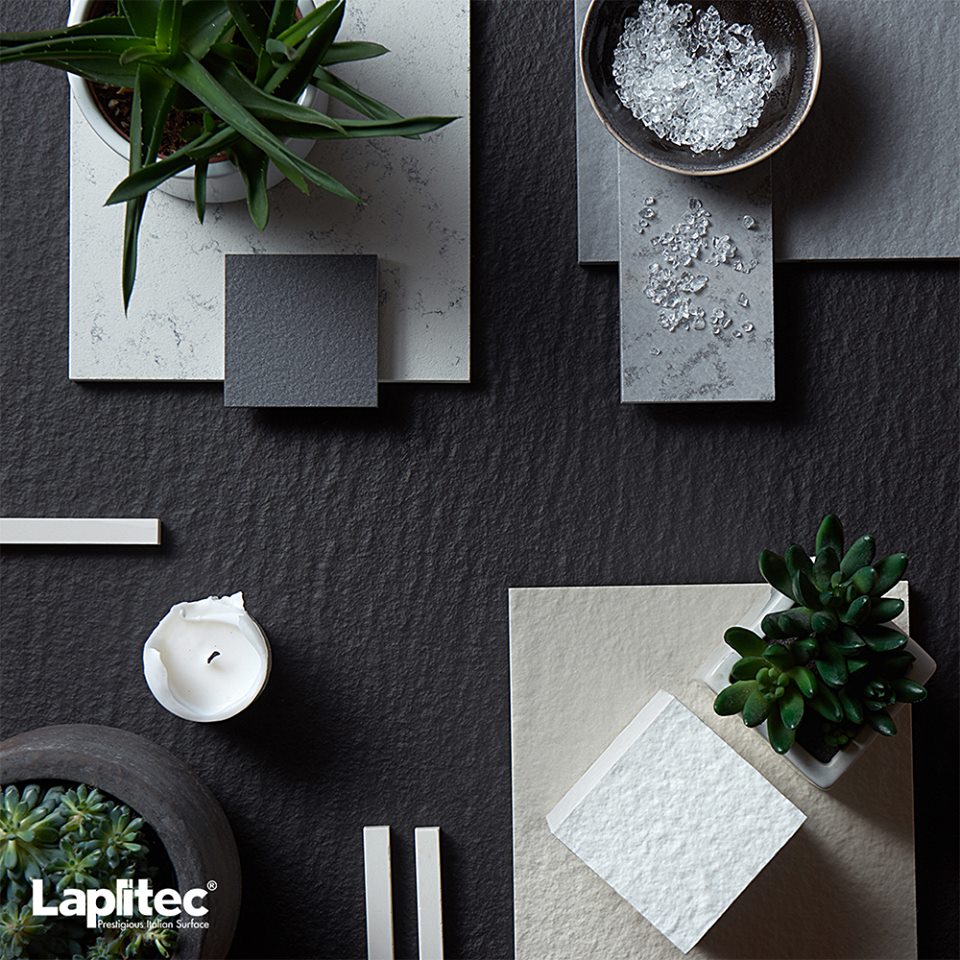 Lapitec in Dune Finish.
This seems obvious, but it goes a lot deeper than "does not stain" or "no need to seal it." You want something that won't feel dated in seven years. Your countertop should be beautiful and long-lasting. Choosing a color that is timeless is true performance in its longevity. Changing your cabinet color, hardware or trim is a lot easier than ripping out a whole countertop. The new porcelain and sintered stone countertops are the highest performing countertops out there, and if you choose the right color and finish, it can be something that lasts indefinitely. These non-porous, scratch, heat, frost and etch resistant tops need no sealing and are also anti-bacterial. Design your kitchen with the future in mind.
This is CaraGreen's list of trends we think you should consider when you're looking to find that next material in your kitchen. Comment below with your thoughts!