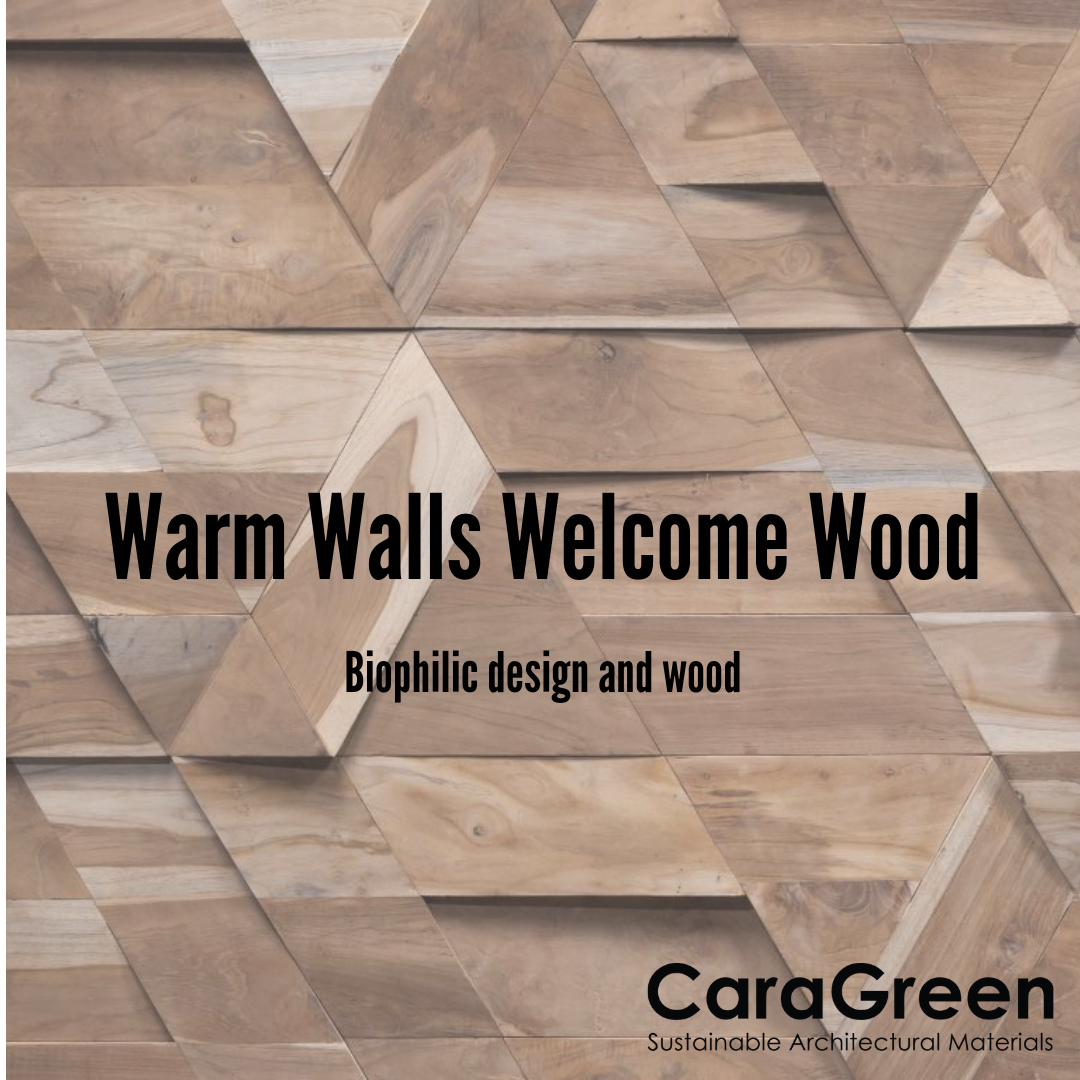 Accent walls are a common design element in spaces where you are using a lot of neutral colors or hard surfaces and you want an organic or eye-catching element to draw the occupant's attention. As more and more attention turns to biophilic design, these features wall have taken on a decidedly 'nature-like' appeal and can really accomplish the elusive feat of bringing the outdoors in.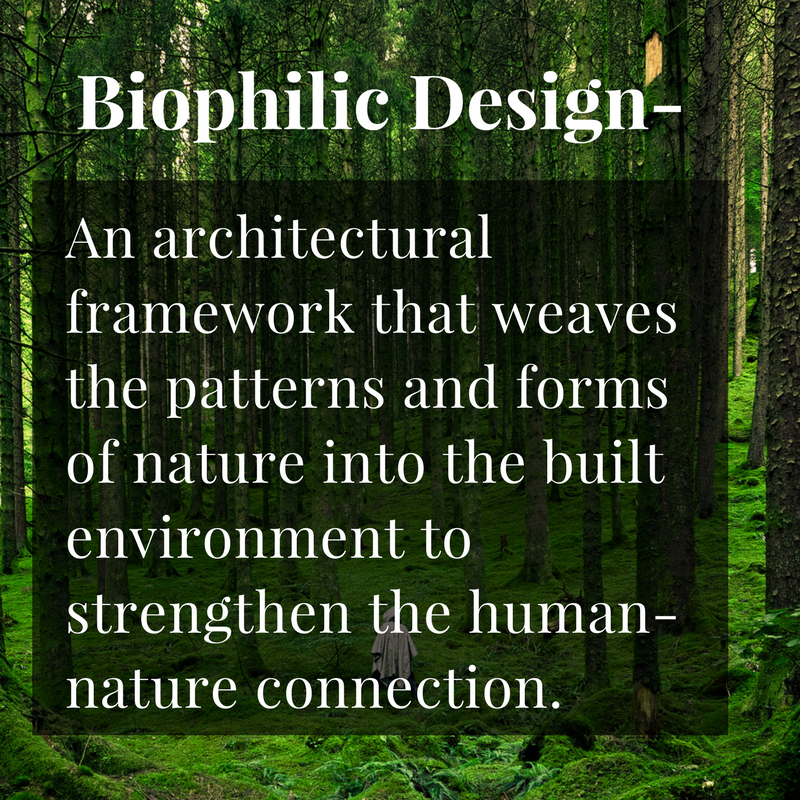 The oft-cited statistic that we spend 90% of our time indoors is nerve-wracking at best, but we don't really seem super eager to shift that balance and move our desks into the grassy patch a few meters outside our door. Rather, designers are bringing the outdoors indoors, in an effort to mitigate this disconnection with nature that we acknowledge but for which we don't have an overnight fix.
One of the more popular biophilic elements for a feature wall is wood, with a warm, often textured feel that immediately evokes nature. Moss and living walls are very biophilic as well, but they are well covered and often involve a maintenance schedule that may be unrealistic for many building occupants or owners that don't have a dedicated staff or their party contract to maintain the beautiful, but high maintenance installation.
We will cover a more cost-effective solution that is available at many different price points and aesthetics and should be achievable across most applications. Wood is easily tacked or glued to an existing wall or framework and is available in several different looks and profiles. Let's explore a few.
Wonderwall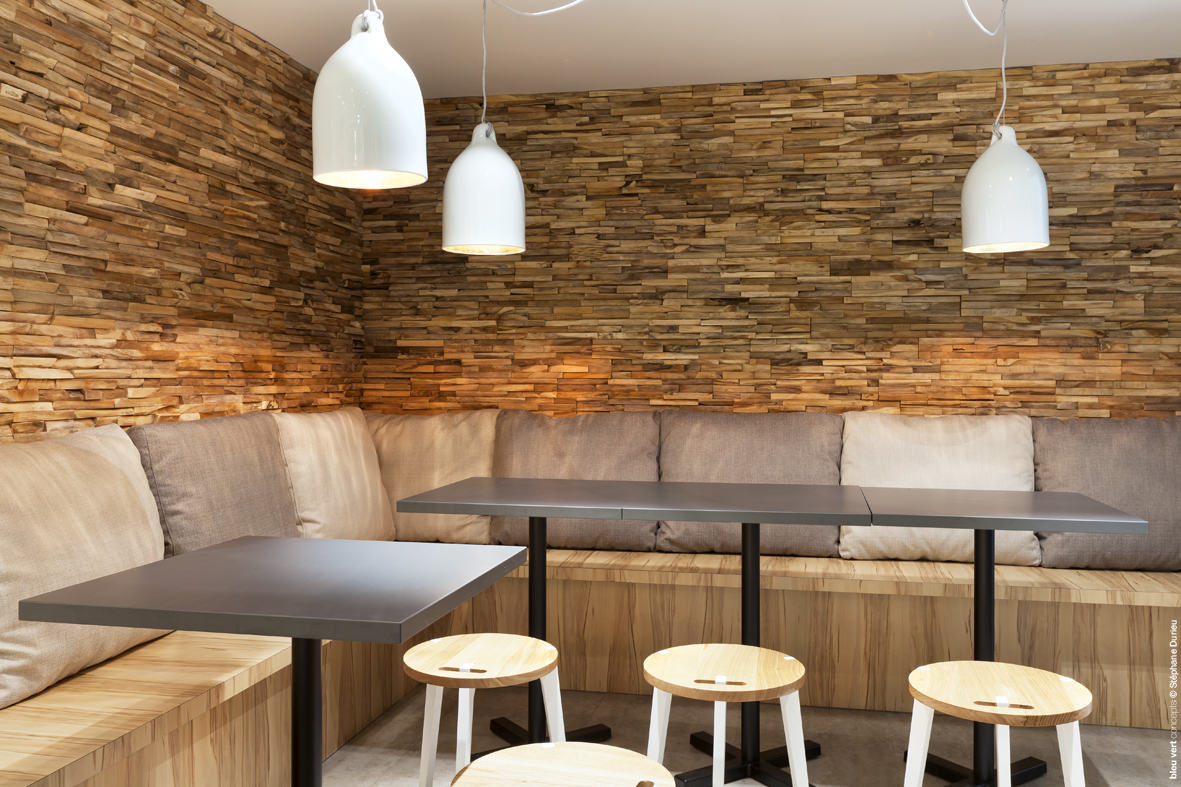 Wonderwall Studios curates reclaimed wood from around the world and lays them up in puzzle-like pieces that are easily placed together to form stunning feature walls. From end cut wood blocks to broken down building banister pieces, the Wonderwall options are three-dimensional works of art. There are over 20 different SKUs that mirror the look of stacked stone with a warmer feel to the intricate form of Phoenix which is the resurrection of Indonesian buildings into interlocking panels. The dimensional element also lends itself to improved acoustical performance as the various depths of the pieces interrupt different frequency to help deaden sound within a room.
Learn more about Wonderwall here.
Bark House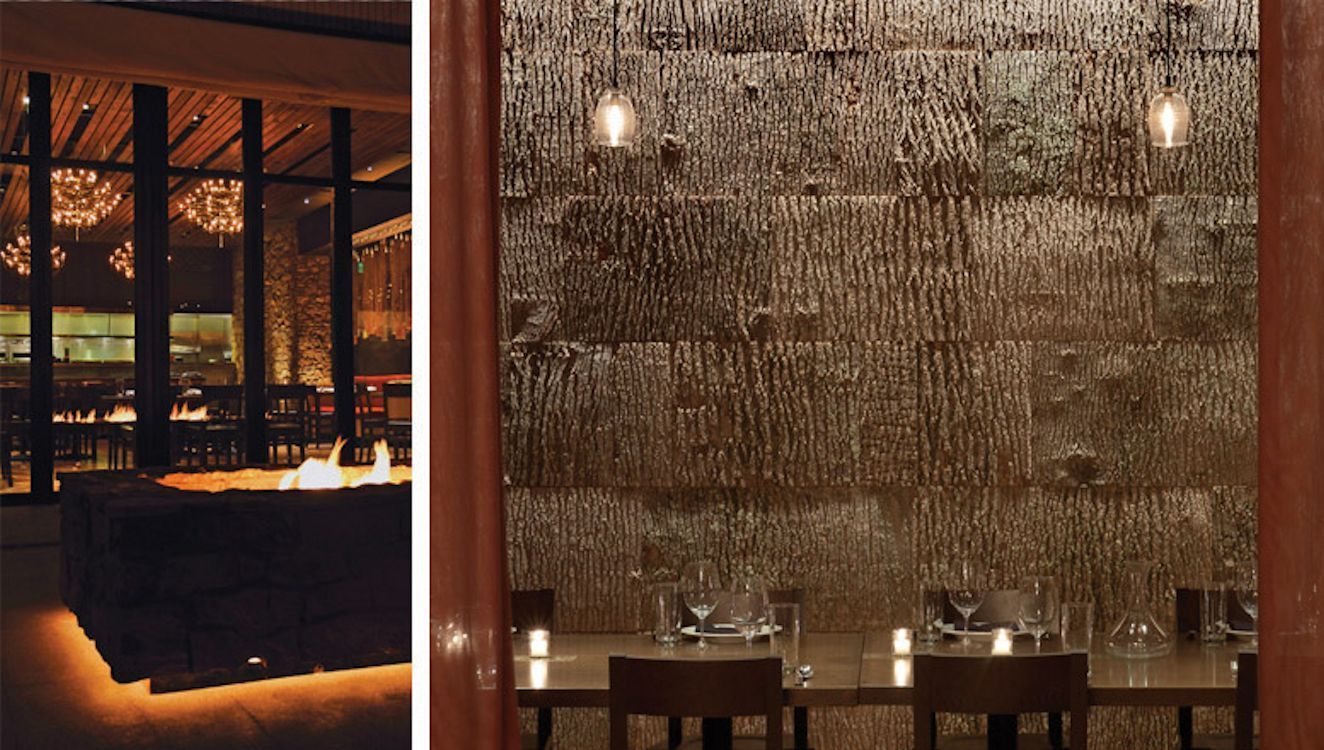 The truest form of bringing the outside in, Bark House is simply tree bark, beautiful and clean, with a biophilic story that needs little explanation. Some of the panels are laid up on a lightweight backer board to enhance their rigidity (Birch, and Pin Cherry) where others stand on their own as shingles (Poplar). Available in different finishes, sanded and unsanded, Bark House offers products that can be used inside and out, but clearly, when bringing the barn indoors, you truly invoke nature within a space.
Learn more about Bark House here.
Plyboo
Long known as the defacto standard in bamboo plywood, with its standard 3-ply panels and natural and amber color offerings, Plyboo has continued to innovate over the last 10 years. Its RLS line, which offers Reveal, Linear and Sound panels are carved, drilled and routed panels that offer a dimensional, patterned look that often involves multiple coloring patterns within the panels. Some of the panels have acoustic characteristics as well. The Fractal product line is another development, offering designers a turnkey tool where they can design their own bespoke product using this new offering.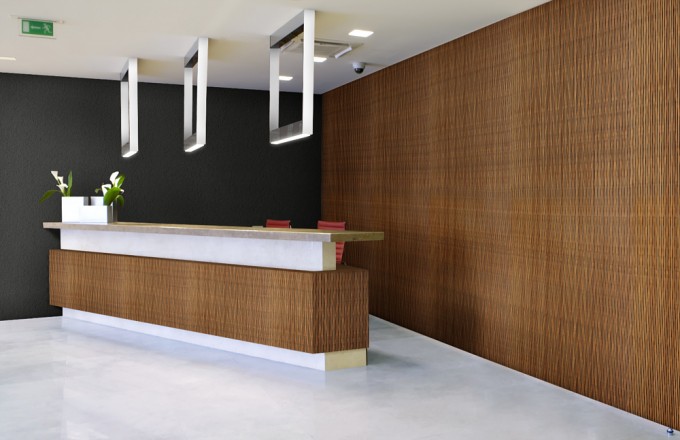 TorZo
TorZo surfaces takes unwanted biobased materials and gives them new life with an unmatched aesthetic. Pine wood left behind due to its coloring is given new life by TorZo when infused with its proprietary acrylic process that makes the material 10 times harder and imparts visual depth into the wood grain in its Blue Stain Pine product. TorZo's new Ray Fleck offering compliments its Orient, Striata, and Tiikeri products that each offer a unique wood-based solution for an eye-catching feature wall.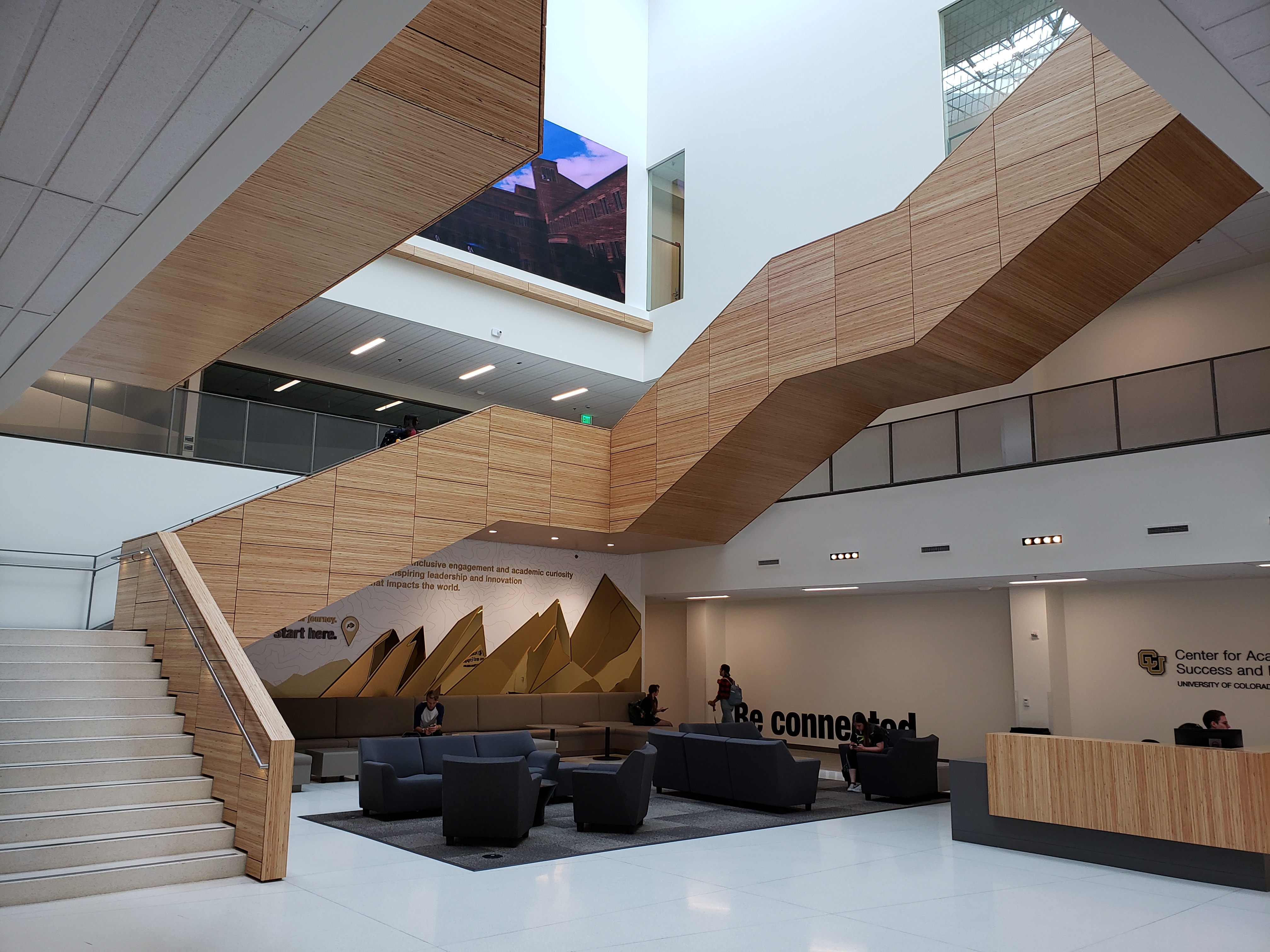 reSAWN Timber
The latest craze to hit standard wood in the design world was the Japanese charring technique Shou Sugi Ban. This unique process coupled with a brush-back and coloring process is what helped reSAWN Timber become a dominant player in the decorative wood space. The texture imparted by the charring and brush back gives the product a visual depth and multi-toned coloring with dozens of colorways to choose from. reSAWN's expertise does not stop there, as they have a full flooring and hardwoods line that bucks the box store trend of non-durable, thin wear layer cheapo flooring, and introduces a strong, long-lived flooring solution that is spans applications from high traffic to high-end wall cladding (and flooring).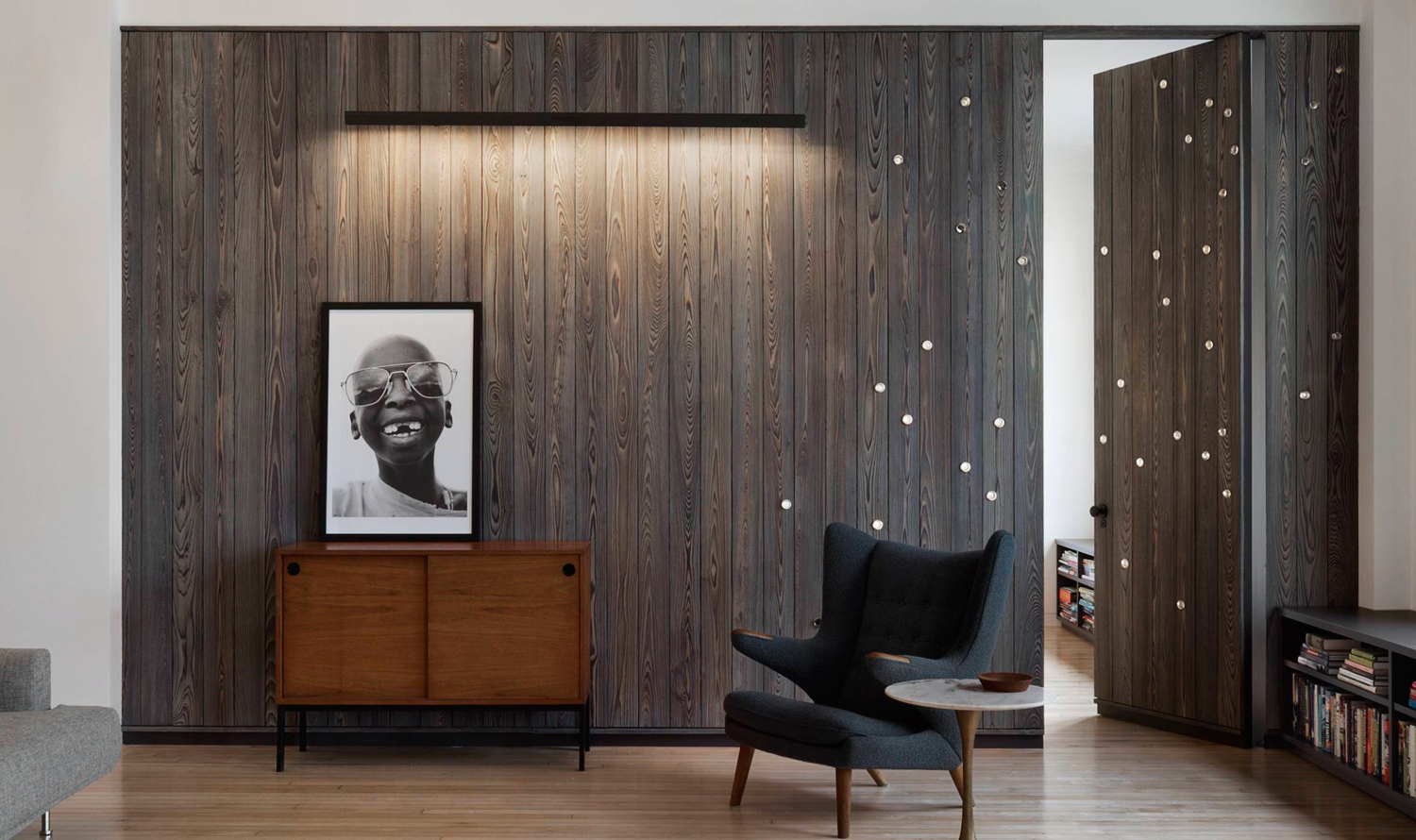 Koskisen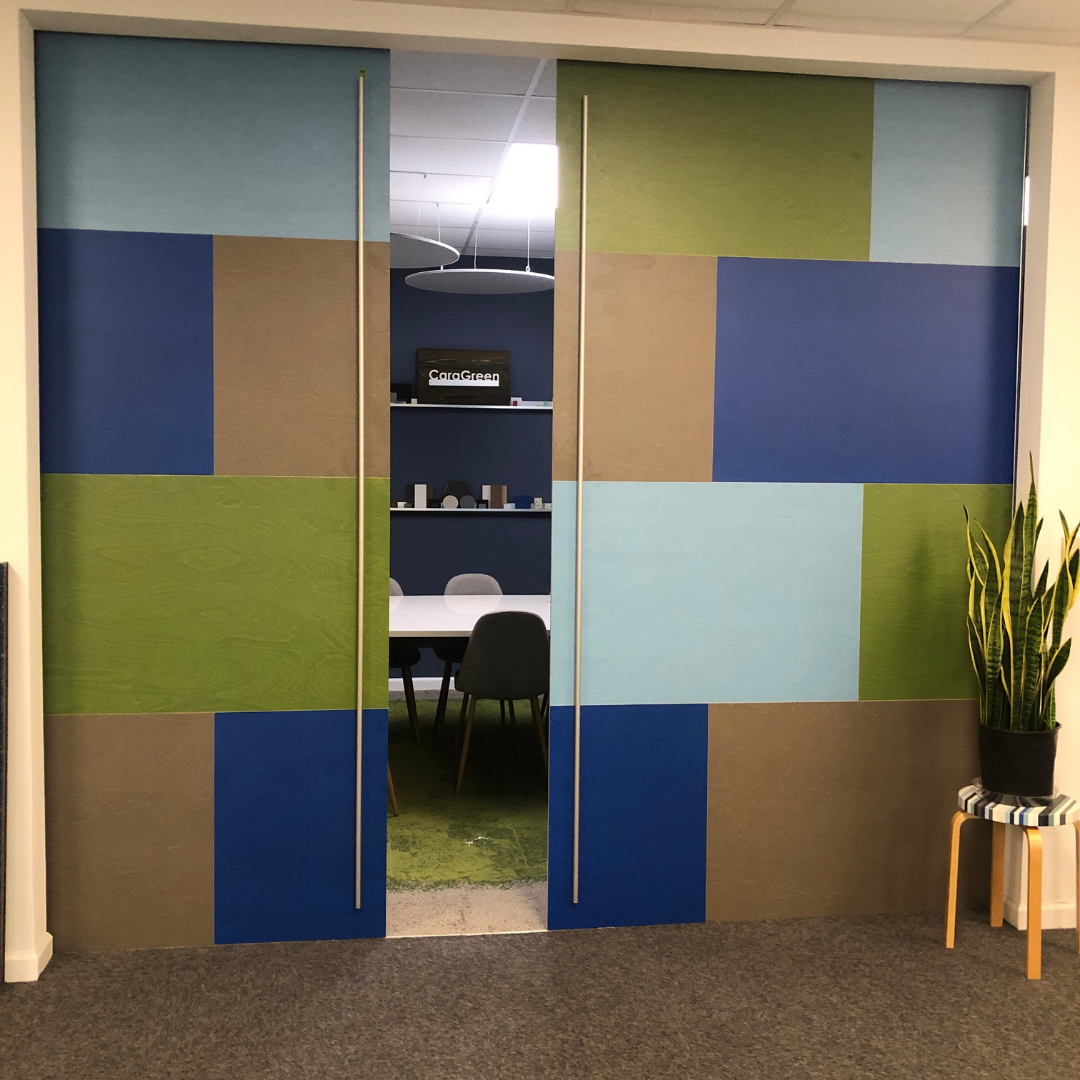 If you like wood, but color is your thing, reSAWN is a good option, or check out Koskisen, made from the highest quality plywood (hand clap for Finland, sustainable wood royalty!). Koskisen uses a water-based paint and clear top layer to create a panel with a natural wood grain emerging beneath a vibrant color base. If neutrals are your jam, they have that too. The panels are great for feature walls, you can see we made doors out of them at CaraGreen's office!
Learn more about Koskisen here.
So wood is good. Design it into your indoor spaces and you should feel more connected to nature. Or you can get up and go sit under a tree. Or maybe both. We think both.
What are your thoughts on wood in design? Share them below or contact us here.