A kitchen is so much more than just a kitchen.
The kitchen has evolved beyond its original role as a prep area for meals to become the hub of our homes and a space that often tells us more about a person than any other room in the home.
Is it messy? Is it pristine? Is it set up for a chef or a college student? Is it functional? Or does it just look good? Is there an island? Is it a galley? How much countertop space is there? How much storage space is there?
Kitchen layout and design.
An open, fluid floorplan in a kitchen welcomes flow and entertaining, where people can easily interact and move through the space. It also offers the ability for a host or hostess to easily converse with guests, refilling, cleaning, replacing and smiling as they go.

Pictured: Lapitec countertop on in Ebano Vesuvio
An island creates a communal space, where a smaller more intimate conversation can occur and multiple people can lean in and converse.
A galley kitchen, on the other hand, limits the amount of interaction that can occur as movement is largely lateral and group entertaining would likely have to occur outside that space unless you are playing an intimate game of telephone.
There are many layouts in between, but the point here is that the layout can tell you a lot about what kind of activities can or do happen in that space. Are you a Social Sally or a Hermit Helen? Your kitchen may hold the answer.
The Elements of the Kitchen
From countertops to cabinets, backsplash to hardware, appliances and flooring, all of these are choices that are made when designing a kitchen. It can be argued that the most transactional, widely used part of a kitchen is a countertop. We set things down on it, we cut on it, we prep on it, we lean on it and we constantly are wiping it down, dragging things across it and relying upon it. Countertop selection is the anchor of the kitchen. It is the element we typically design around, and its aesthetic and performance are paramount to kitchen design.
Not to imply cabinet color, hardware selection and backsplash are not important, their selections are critical complements to the countertop that they flank.
So, what kind of countertop is right for you?
The Happy-go-Healthy Countertop
From health nuts to germaphobes, chemically sensitive to earth-worshiping, consumers of all ages are getting savvy to the characteristics of surfaces that can impact their well being.
Some say health is wealth and when it comes to countertops, and many people don't want to compromise. If they are preparing baby food, school lunches, and their own food on a surface it better be safe, non-toxic, and have a good backstory. Further, preparing raw meats in the vicinity of other food products needs to mean it is easy to clean and won't harbor the growth of bacteria and germs.
Some consumers are even looking further back to how the material was extracted and its life cycle, or end of life disposal of the countertops, to ensure that it is not just healthy when installed but also that it was responsibly extracted, manufactured, and installed before it became a part of their home.
For those seeking surfaces with performance features that speak to health, wellness, and innovation, check out the following:
Lapitec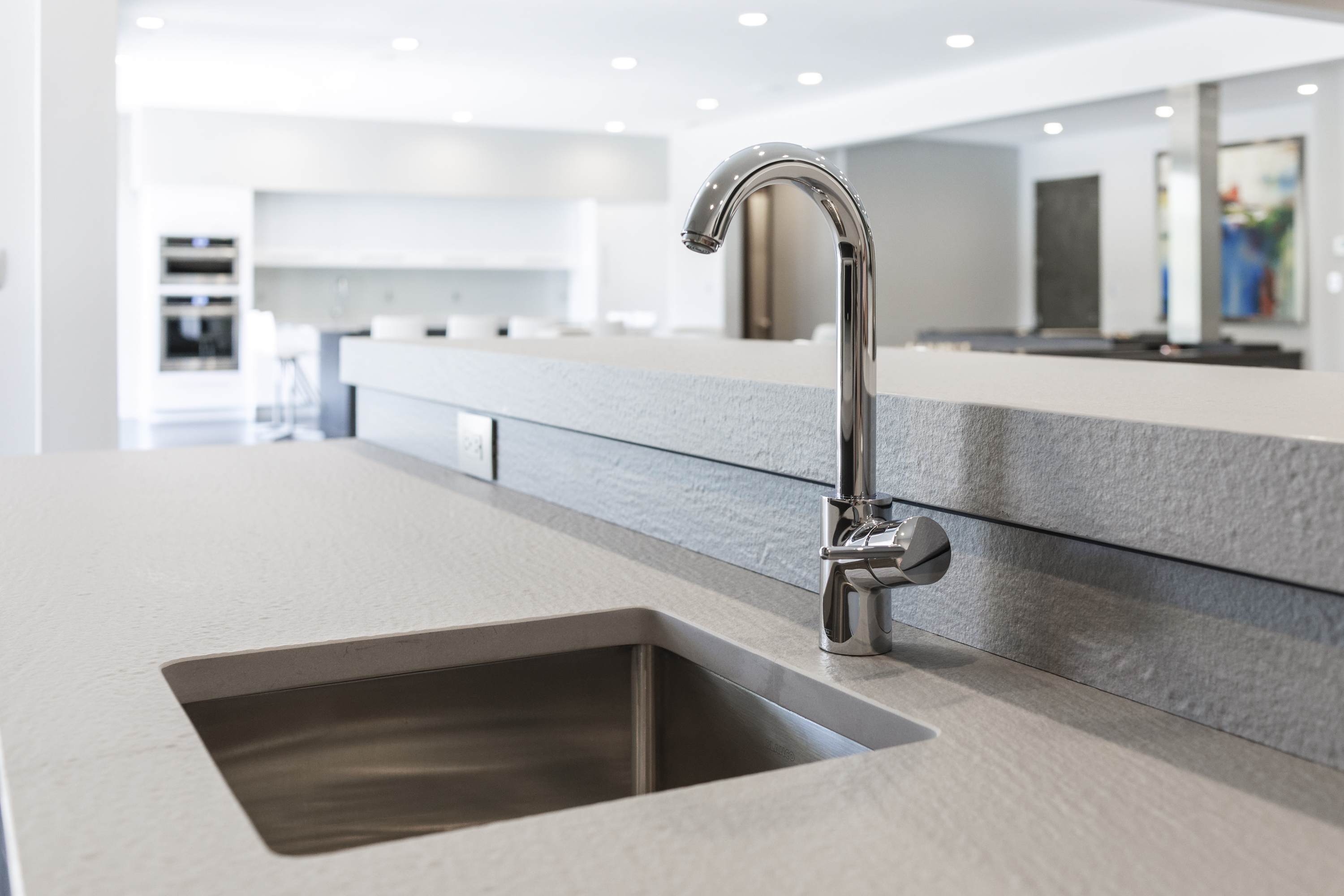 Lapitec is a sintered stone made with 100% minerals – no resins, no binders. With colors that have zero silica, it is a far healthier countertop choice for those cutting it and working with it. Its hydrophilic properties make it easy to clean and sanitize.
PaperStone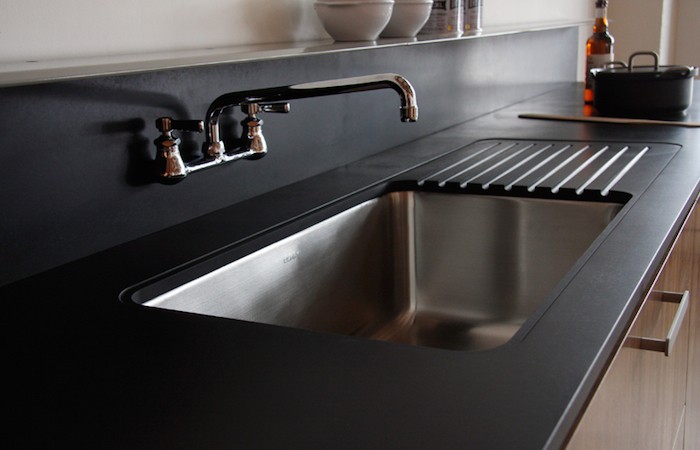 Made with recycled paper and a proprietary non-toxic phenolic resin, PaperStone is an inherently silica-free surfacing material. Easy-to-clean and food-safe, it is the perfect healthy countertop material for kitchen and bathroom countertops alike.
Porcelain

Image source: Infinity Surfaces
Durable and extremely versatile, porcelain countertops are non-porous. That means they are food safe and extremely easy to clean. Like Lapitec sintered stone, porcelain is another material with an inherently lower percentage of silica.
Still curious about the difference between sintered stone and porcelain? Check out this blog post: https://www.caragreen.com/blog/entry/is-sintered-stone-the-same-as-porcelain-tile
The "I AM the Joneses" Countertop
If you like to entertain, you want to make sure that your kitchen is a showpiece, and the countertop is the star. When people want to make sure that they have the latest and greatest. What that means may depend on your budget. For more affluent customers, they may want an exclusive natural stone, the highest-end quartz, or one of the most technically engineered and highest performing products.
If you want to set the bar like the ones to keep up with when it comes to high-end surfacing, you are looking at materials like those below:
Quartzite

Image Source: Affinity Stoneworks
Quartzite is a natural stone. As it is a product of nature, no one slab is alike. For those who love one-of-a-kind countertops that double as conversation pieces, quartzite is often the material of choice.
Marble

Image source: Pixabay
The classic white marble countertop has and remains to be an extremely popular high-end countertop choice. The natural dramatic veining and purity of color make it a well sought after (and irreplicable) statement piece for kitchens and bathrooms.

High-End Quartz

Image source: Diresco
The "it" engineered stone for decades, quartz has long held its place in the kitchen of Joneses across the country. Available in a number of colors and finishes, quartz offers the look of natural stone with the durability of engineered stone.
Porcelain/Modified Ceramics

Image sources: Infinity Surfaces
Porcelain and modified ceramics are available in a number of colors, finishes, and prints, making them a versatile and high-end choice.
Sintered Stone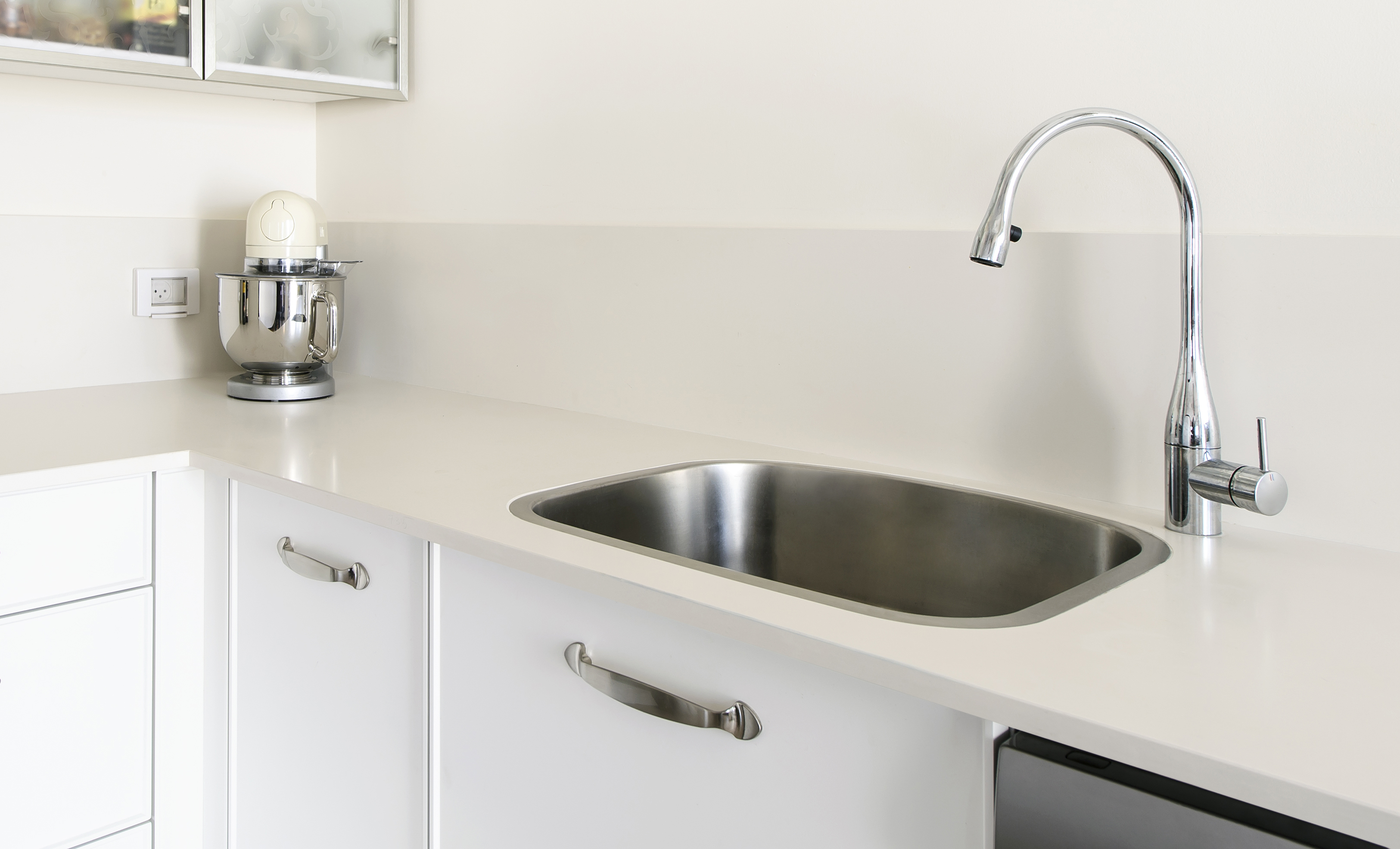 Pictured: Lapitec sintered stone in Bianco Crema
Sintered stone isn't just a healthy countertop. The engineered stone of the future, sintered stone is quickly making a name for itself as an "it" material for its looks, performance features, and sustainability attributes.
Onyx

Image source: waterfront-properties.com
Onyx is a calcareous stone, formed by dissolving limestone and redeposited as a new kind of stone, giving it a slightly translucent and distinct look. It is an extremely rare (and pricy) material, making it well sought after by those with deep pockets and curatorial minds.
Recycled Glass

Pictured: GEOs Recycled Glass Surface in White BIrch
The vetrazzo look is in, and it isn't going anywhere anytime soon. Composite countertops made with recycled glass and resin, like GEOS are beautiful and tell a compelling sustainability story.
The Wise and Workable Countertop
Feeling Practical? Budget-savvy? Choosing a countertop you can get based on your needs is a critical part of the process. If you consider how you are using the surfacing, what your budget is, what your replacement cycle is likely to be, what you and your family (or company) value, are the key considerations in choosing your countertop.
For the purposes of inclusion, if your driver is health or wealth, we have you covered, that is not to imply that you are not wise. We will consider these surfaces to be those where budget is a consideration and it intersects with other performance and value characteristics.
Quartz

Image source: Diresco
Engineered stones like quartz are known for their durability and performance. Quartz is extremely hard and non-porous, making it an enduring and easy to clean material.

PaperStone

Pictured: PaperStone countertop in Slate
Economical, durable, and easily workable, PaperStone is a go-to material for those looking for an organic matte finish that performs like a dense hardwood.
Solid Surface

Pictured: Durat Solid Surface
An economical option for seamless, integrated designs, solid surface is available in many colors and enjoys widespread adoption across the industry.
Healthy, Wealthy, Wise, or maybe all three, there are surfacing options for every need and every budget. As consumers and professionals alike consider a kitchen redesign or purchasing or design a new home or commercial space, the surfaces chosen are an integral and anchoring part of that decision. So what kind of countertop are you?